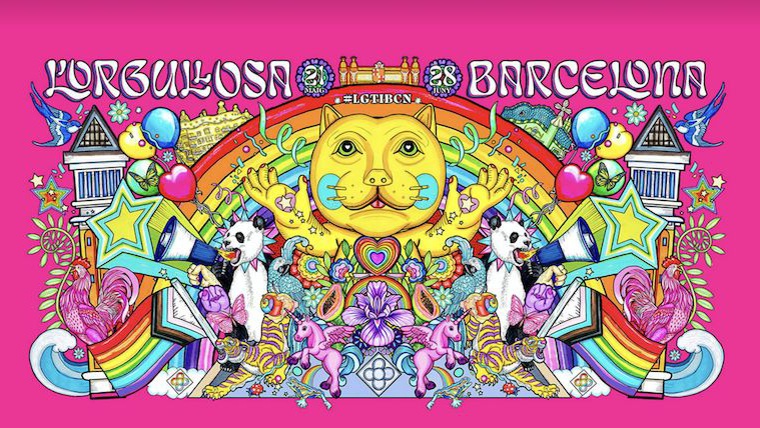 LGBTI. From 21 May to 28 June, Barcelona will host a wide range of activities, parties and music revolving around International LGBTI Pride Day.
Barcelona is ready for the festivities and voices that will show the world that the city is a leader in LGBTI rights and freedoms, the fight against LGBTI-phobia and the promotion of sexual and gender diversity.
This is a celebration where all citizens will feel represented, with a programme packed with surprises and reasons to be proud.
L'Orgullosa will be touring the city's different districts for almost a month and a half, with a wide range of artistic activities showcasing the plurality of perspectives of different groups.
L'Orgullosa will kick off on 21 May with the Barcelona LGBTI Centre Party, although most of the events will be held throughout June, culminating in a huge music event to be hold at Montjüic's Olympic Ring on International LGBTI Pride Day itself, 28 June.
LGBTI Centre Party
LGBTI Centre Party will be back in Saturday, 21 May in the Sant Antoni neighbourhood, an event to immerse yourself in a benchmark space for the city's sexual and gender diversity.
There will be an open morning at the Centre from 11 am to 2pm, with different activities and workshops. Inside, the LGBTI Centre will host a book fair featuring publications from various LGTBI and feminist bookshops in Barcelona and a spontaneous silk-screen printing workshop called 'Espigaciones", run by Nora Haddad, where you can print photographs from the LGBTI history archive on items of clothing.
At the same time, and held outside the LGBTI Centre, the 'deviant cooking' group workshop will be given by Graffiti Receptes. There will also be a sound experimentation session with a participatory recording led by ChicoTrópico. Throughout the morning, you will also be able to enjoy Clàudia Mallart's Queer Dancers installation.
In the afternoon, the festivities will move to the pedestrian zone of ​​Ronda de Sant Antoni, where there will be a variety of musical performances ranging from Isabel Rivera's jaleo flamenco queer to Jimena Amarillo's intimate pop and Mercedes Peón's eclectic universe, not fogetting Megane Mercury's and Navxja's dissenting voices. The programme will end with DJ Gaspar Blaya's petardeo show.
You can check out the entire LGBTI Centre Party programme here.
L'Orgullosa makes its way around the city
L'Orgullosa will make its way around the city's neighbourhoods throughout the whole of June, with an intergenerational, transfeminist and intersectional programme.
There will be a tribute to Flor del Campo, with flamenco in his neighbourhood of La Trinitat; you can take part in an event for diverse families in Sant Martí; you can share an afternoon with Sarao Drag in a Gràcia square; help to sew a multi-coloured dress that symbolises the deconstruction of gender; listen to a local resident choir singing about the LGBTI community over time; and take part in a group workshop to change the names of children's tales so that sexually dissident families are included in them.
There will also be the chance to enjoy performances by Isabel do Diego, Gabriela Wiener, Fito Conesa, Sara Manubens, Ona Bros, Personaje Personaje AL-V, Me siento extraña, and others.
Huge musical event on 28 June
On 28 June, International LGBTI Pride Day, the city will host the first party of its kind to celebrate diversity, love, dissidences, different corporalities and the pride of the LGBTI collective.
The Orgullosa music event, which will be held at the Olympic Ring, will be very special, boasting a carefully constructed programme of local artists.
The festival will star Maruja Limón, along with Roba Estesa, Tribade, Las Karamba, Balkan Paradise Orchestra, Ketekalles, Flamenco Queer; Maria Arnal and Marcel Bagés, with Rodrigo Cuevas; Putochinomaricón, along with Rizha and the Boyband Baobae, King Massalami, Ken Pollet, Megane Mercury (Mercurio Retrógrado) and Chenta (Papi Papushca and Cali). And this huge celebration of LGBTI pride in the city will be brought to a close by Samantha Hudson DJ Set.
Others
Occur on:

Occur on:
Del 21 de maig al 28 de juny, sota el nom de l'Orgullosa, Barcelona es vesteix de festa i reivindicació, per mostrar-se al món com la referent que és en la defensa de drets i llibertats dels col·lectius LGTBI, la lluita contra LGTBI-fòbia i en la promoció de la diversitat sexual i de gènere. Una celebració on tota la ciutadania s'hi senti representada, amb una programació plena de sorpreses i de motius per estar orgulloses. #OrgullosaBCN
LA FESTA DEL CENTRE LGTBI
21 de maig
Dissabte 21 de maig torna la Festa del Centre LGTBI als carrers del barri de Sant Antoni! Vine a conèixer l'espai de referència en diversitat sexual i de gènere de la ciutat de Barcelona. De les 11.00 a les 14.00 hores, hi haurà matí de portes obertes al Centre LGTBI amb diferents activitats i tallers.A la tarda, la Festa es trasllada a la zona per a vianants de la ronda de Sant Antoni, amb diferents actuacions musicals: Isabel Rivera; Jimena Amarillo, Mercedes Peón, Megane Mercury i Navxja i DJ Gaspar Blaya.
L'ORGULLOSA RECORRE LA CIUTAT
Un mes de juny ple d'activitats i concerts
Durant el mes de juny, l'Orgullosa recorrerà els districtes de la ciutat amb una programació descentralitzada que acosti la commemoració a cada barri i faci gaudir de la festa tota la ciutadania. Es tracta de propostes artístiques que visibilitzen la pluralitat de les mirades del col·lectiu. Una programació intergeneracional, transfeminista i interseccional, elaborada en col·laboració amb les entitats i els agents de cada districte que durant tot l'any treballen per reivindicar els drets LGTBIQ+.
GRAN GALA MUSICAL
28 de juny,
Anella Olímpica de Montjuïc
La nostra ciutat estrena una festa ciutadana sense que hi falti res per celebrar la diversitat, l'amor, les dissidències, les corporalitats diverses i el nostre orgull com a col·lectiu LGTBI.La gran gala musical de l'Orgullosa serà un esdeveniment molt especial a l'Anella Olímpica de Montjuïc amb un line-up que ens farà ballar, viatjar i reivindicar totes juntes.Serà una vetllada inoblidable!El programa d'aquesta gran festa s'anunciarà pròximament
Diversos llocs: (Centre LGTBI, Anella Olímpica de Montjuïc)
City:

Barcelona
Where

Diversos llocs: (Centre LGTBI, Anella Olímpica de Montjuïc)
When

From 21/05/2022 to 28/06/2022
Website