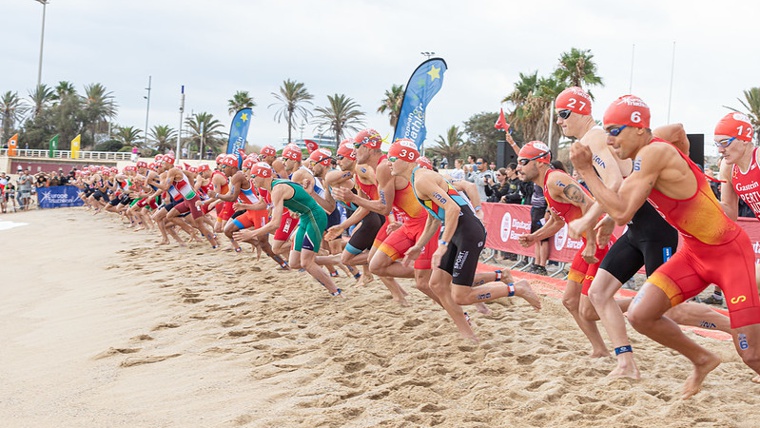 Triathlon. The sports event includes the Supersprint, Sprint and Olympics categories.
The Barcelona Triathlon 2022 kicks off at 8 am on Sunday, 9 October, along the coastline, Mar Bella beach and the La Mar Bella Municipal Sports Centre.
Adapted to three different levels of difficulty, the competition's route and distances will vary according to the category chosen:
Olympics: 1,500 metres swimming, 40 km cycling and 10 km running
Sprint: 750 metres swimming, 20 km cycling and 5 km running
Supersprint: 350 metres swimming, 10 km cycling and 2.5 km running.
They can also be attempted in four different versions: individual; relief, where the disciplines are divided between two or three people; pairs, doing the route at the same time; and enterprises, registering together for the various distances to promote teamwork and group cohesion.
Shirt-numbers can be collected on 7 and 8 October from TriExpo, together with a swimming cap, bracelet, chip and series of bicycle stickers and helmet that will be provided by the organisers.
You can sign up for the race from the Barcelona Triathlon website.
Schedule
| | Days | Hours | Preus | |
| --- | --- | --- | --- | --- |
| | diumenge | a les 08.00 h | Entrada general de: 42 a 135 € (segons modalitat) | |
La prova se celebrarà el proper 9 d'octubre a les 8:00 hores i es desenvoluparà, principalment, a la façana litoral, la platja de la Mar Bella i al CEM La Mar Bella.
Adaptat a tres nivells diferents de dificultat, el recorregut i les distàncies de la competició variaran segons la modalitat escollida: Olímpica, 1.500 metres en natació, 40 quilòmetres en ciclisme i 10 quilòmetres en la cursa a peu; Esprint, 750 metres en natació, 20 quilòmetres en ciclisme i 5 quilòmetres en la cursa a peu; i Superesprint, 350 metres en natació, 10 quilòmetres en ciclisme i 2,5 quilòmetres en la cursa a peu.
També s'hi podrà participar en quatre versions diferents: individual; relleus, on dues o tres persones es repartiran les disciplines ; parelles, fent alhora el recorregut; i empreses, realitzant una inscripció conjunta a les diferents distàncies per fomentar el treball en equip i la cohesió de grup.
El dorsal podrà recollir-se a l'octubre, concretament els dies 7, d'11:00 a 20:00 hores, i 8, de 10:00 a 19:00 hores, a la TriExpo; juntament amb un casquet de natació, una polsera, un xip i una sèrie d'adhesius per a la bici i el casc que proporcionarà l'organització.
Les inscripcions a la prova, que s'espera que reuneixi més de 3.000 participants, poden fer-se aquí.
Alteracions de trànsit:
Ronda Litoral: restaran tallades les sortides 23 (ambdós sentits) i la 24 (sentit Besòs).
Pg. Garcia Fària: es desviarà per Josep Pla.
Av. Litoral: es desviarà a la pl. dels Voluntaris Olímpics
Rambla del Poblenou: s'invertirà la circulació de la calçada Llobregat, entre pg.
Taulat i pg. Calvell, per tal de donar sortida als vehicles de Perelló i del pg. Calvell
(calçada lateral muntanya entre ptge. d'Aymà i rambla del Poblenou).
Diversos carrers del Districte de Sant Martí
Address:

Passeig Marítim del Bogatell, 80

:

Sant Martí

Neighborhood:

el Poblenou

City:

Barcelona
Where

Diversos carrers del Districte de Sant Martí
When

09/10/2022
Website
You may also be interested in...