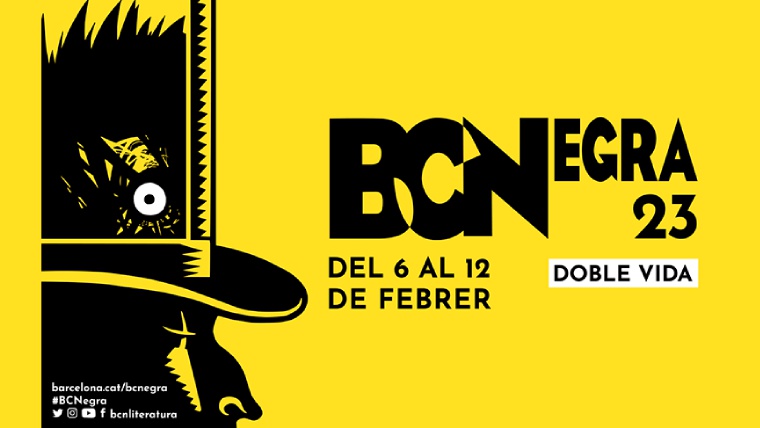 Noir fiction. More than 120 national and international participants and some eighty activities centred on the concept of "double life".
The Noir Novel Festival, BCNegra 2023, will be held from 6 to 12 February. El Molino and the Aribau Multicines will be the main venues, although it will extend to other parts of the city.
Notable authors taking part will include Leonardo Padura, Claudia Piñeiro, Ray Loriga, Dominique Manotti, Leonardo Sciascia, Youssef El Maimouni, Dolores Redondo, Juan Gómez-Jurado, Antonio Manzini, Petros Márkaris and Núria Cadenes.
This year's central BCNegra theme is "double life". And that's because the idea of double, of the duplicity and two (or more) faces of a character opens an infinite window of possibilities in literature and, in particular, in the noir novel.
The festival's programme is made up of conversations, chats and round tables with authors and completed with itineraries through the city, book clubs, screenings, exhibitions, theatre shows and music.
Admission to all the activities is free, except for the screenings at the Filmoteca de Catalunya, which are payment only.
You see full information from the festival's website.
Others
Occur on:

Occur on:

Occur on:

Occur on:

Occur on:

Occur on:

Occur on:

Organised by:
La trobada internacional de novel·la negra de Barcelona fa 18 anys i ho celebra, del 6 al 12 de febrer, amb taules rodones, teatre, cinema i música. Grans autors i autores reflexionen enguany sobre "El doble" i omplen l'escena del crim de personalitats múltiples, cares B i monstres interiors. Aquesta edició de BCNegra omple la ciutat amb tot de grans autors i autores del gènere negre, entre els quals Dominique Manotti, Petros Márkarios, Leonardo Padura, Alexis Ravelo, Núria Cadenes, Claudia Piñeiro, Paco Ignacio Taibo II, Jon Bilbao, Laura Lippman, Drod Mishani, Margarida Aritzeta, Pilar Adón o Juan Ramón Biedma. Aquests autors i autores són només alguns dels que participaran en les taules rodones i xerrades del festival, que enguany se celebra entre la Biblioteca Jaume Fuster, el Molino, la Filmoteca de Catalunya i els Cinemes Aribau. Projeccions de cinema, un muntatge teatral i fins i tot un concert d'Albert Pla formen part també de la programació.
Address:

Carrer del Carme, 47

:

Ciutat Vella

Neighborhood:

el Raval

City:

Barcelona
When

From 06/02/2023 to 12/02/2023
Website
Web:

Web:

Web:

Web:

Web:

Web:

Web:

Web:

Web:
You may also be interested in...