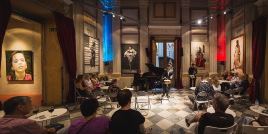 Schedule
Days
Hours
Preus

Divendres excepte 8 octubre

a les 18.00 h

Entrada general de: 14 €
(inclou visita al Museu i concert)
Others
Occur on:

Tickets sold at:

Organised by:
Tots els divendres a la tarda, el Museu Europeu d'Art Modern s'omple de música. El cicle Friday's Blues ofereix la possibilitat de gaudir de el contemporani del MEAM i, al mateix temps, presenciar un concert. Del blues al bluegrass, passant pel swing i el jazz, diverses bandes treuen els seus instruments i, emparats per les obres que omplen el museu, ofereixen la seva música als visitants.Abans del concert tindràs l'oportunitat de realitzar una visita a la col·lecció, que exposa el millor de l'art figuratiu contemporani, fet que caracteritza al MEAM i ho distingeix d'altres museus d'art contemporani.
Programació:
Divendres, 3 De setembre: MARIAN BARAHONA & NITO FIGUERAS
Divendres, 10 De setembre: VIRGINIA VI TRIO
Divendres, 17 De setembre: CAROL DURAN, LLUIS GÓMEZ & MARIBEL RIVERO
Divendres, 24 De setembre: CARLA SUNDAY TRIO
Divendres, 1 d'octubre: JAC
Divendres, 15 d'octubre: JORDI ARKANO QUARTET
Divendres, 22 d'octubre: ANGUE & HER HOT JAZZ TRIO
Divendres, 29 d'octubre: SANTOS PUERTAS
Divendres, 5 de novembre: JULIO LOBOS & DAVID GIORCELLI
Divendres, 12 de novembre: LLUIS COLOMA & MIRIAM APARICIO
Divendres, 19 de novembre: PAUL SAN MARTIN & CRISTIAN MOYA
Divendres, 26 de novembre: MARC FERRER & AUGUST THARRATS
Divendres, 3 de desembre: SWEET MARTA, JOHNNY BIGSTONE & OSCAR RABADAN
Divendres, 10 de desembre: FRANK BARNES TRIO
Divendres, 17 de desembre: TXUS BLUES & CESAR CANUT
Address:

C Barra de Ferro, 5

:

Ciutat Vella

Neighborhood:

Sant Pere, Santa Caterina i la Ribera

City:

Barcelona
When

From 03/09/2021 to 17/12/2021
Website
Web venda d'entrades:
You may also be interested in...