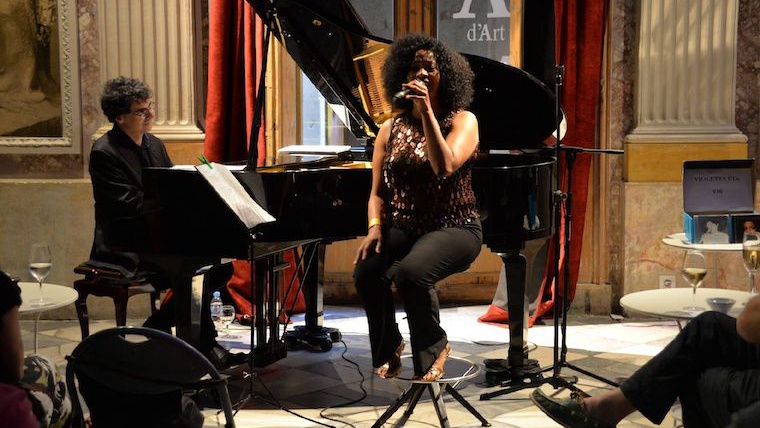 Blues. The cycle allows you to enjoy contemporary figurative art at the MEAM, accompanied by a concert.
Every Thursday afternoon, the European Museum of Modern Art is filled with music. From blues to bluegrass, swing and jazz, various bands bring along their instruments and offer visitors their music, complemented by the works which fill the museum.
Before the concert you can visit the exhibition, which features the finest of contemporary figurative art.
Schedule
Days
Hours
Preus

Divendres

a les 18.00 h

Entrada general: 17 €

(inclou visita al Museu i concert)
Others
Occur on:

Tickets sold at:

Organised by:
Tots els divendres a la tarda, el Museu Europeu d'Art Modern s'omple de música. El cicle Friday's Blues ofereix la possibilitat de gaudir de el contemporani del MEAM i, al mateix temps, presenciar un concert. Del blues al bluegrass, passant pel swing i el jazz, diverses bandes treuen els seus instruments i, emparats per les obres que omplen el museu, ofereixen la seva música als visitants.Abans del concert tindràs l'oportunitat de realitzar una visita a la col·lecció, que exposa el millor de l'art figuratiu contemporani, fet que caracteritza al MEAM i ho distingeix d'altres museus d'art contemporani.
Programació:
DIVENDRES 4 D' AGOST: ALAN PARDO BAND
DIVENDRES 11 D'AGOST: JAMES SEDGWICK & LEO CAYUELA
DIVENDRES 18 D'AGOST: WINDY COAST BAND
DIVENDRES 25 D'AGOST: ATOMIC LEOPARDS
DIVENDRES 1 DE SETEMBRE: THE HOODOO DOCTORS
DIVENDRES 8 DE SETEMBRE: ENMA FERNANDEZ & AGUSTÍ BURRIEL
DIVENDRES 15 DE SETEMBRE: FUNK STATION
DIVENDRES 22 DE SETEMBRE: TRAVELIN BAND
DIVENDRES 29 DE SETEMBRE: WORLD ON A STRING
DIVENDRES, 6 OCTUBRE: JOHNNY BIGSTONE & SWEET MARTA
DIVENDRES, 13 OCTUBRE: NAMINA ROOTS
DIVENDRES, 20 OCTUBRE: MIGUEL TALAVERA & KIKE MENDEZ
DIVENDRES, 27 OCTUBRE: BLAS PICÓN & OSCAR RABADÁN
DIVENDRES, 3 NOVEMBRE: DAVID GIORCELLI & JULIO LOBOS
DIVENDRES, 10 NOVEMBRE: PAUL SAN MARTÍN & SISTER MARION
DIVENDRES, 17 NOVEMBRE: MARC FERRER & POYO MOYA
DIVENDRES, 24 NOVEMBRE: AUGUST THARRATS & LLUIS COLOMA
DIVENDRES, 1 DESEMBRE: CHINO SWINGSLIDE & TOTA BLUES
DIVENDRES, 8 DESEMBRE: DAVID PHILIPS & CARLOS SHELLY
DIVENDRES, 15 DESEMBRE: GILI-ROMANI-MAZZANTI HOT JAZZ CATS
DIVENDRES, 22 DESEMBRE: THE SUITCASE BROTHERS
DIVENDRES, 29 DESEMBRE: ENMA FERNANDEZ & AGUSTÍ BURRIEL
Address:

Carrer de la Barra de Ferro, 5

:

Ciutat Vella

Neighborhood:

Sant Pere, Santa Caterina i la Ribera

City:

Barcelona
When

From 04/08/2023 to 29/12/2023
Website
Web venda d'entrades:
You may also be interested in...