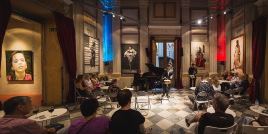 Schedule
Days
Hours
Preus

Divendres

a les 18.00 h

Entrada general: 15 €

Entrada general de: 15 €

(inclou visita al Museu i concert)
Others
Occur on:

Tickets sold at:

Organised by:
Tots els divendres a la tarda, el Museu Europeu d'Art Modern s'omple de música. El cicle Friday's Blues ofereix la possibilitat de gaudir de el contemporani del MEAM i, al mateix temps, presenciar un concert. Del blues al bluegrass, passant pel swing i el jazz, diverses bandes treuen els seus instruments i, emparats per les obres que omplen el museu, ofereixen la seva música als visitants.Abans del concert tindràs l'oportunitat de realitzar una visita a la col·lecció, que exposa el millor de l'art figuratiu contemporani, fet que caracteritza al MEAM i ho distingeix d'altres museus d'art contemporani.
Programació:
Divendres, 7 de gener: MARIAN BARAHONA & MARC FERRER
Divendres, 14 de gener: BIG MAMA EARLY BLUES & JAZZ TRIO
Divendres, 21 de gener: QUARTET MARTA SIERRA
Divendres, 28 de gener: MIQUEL ROLDAN SWINGTET
Divendres, 4 de febrer: BAD DECISIONS
Divendres, 11 de febrer: MARTIN J. MERINO TRIO
Divendres, 18 de febrer LUST 'N' FOUND
Divendres, 25 de febrer THE LOWDOWN GROOVERS
Divendres, 4 de març: ORIOL ROMANI HOT JAZZ CATS
Divendres, 11 de març: CHINO SWINGSLIDE
Divendres, 18 de març: BETTA BLUES TRIO
Divendres, 25 de març: ATOMIC LEOPARDS
Address:

Carrer de la Barra de Ferro, 5

:

Ciutat Vella

Neighborhood:

Sant Pere, Santa Caterina i la Ribera

City:

Barcelona
When

From 07/01/2022 to 25/03/2022
Website
Web venda d'entrades:
You may also be interested in...