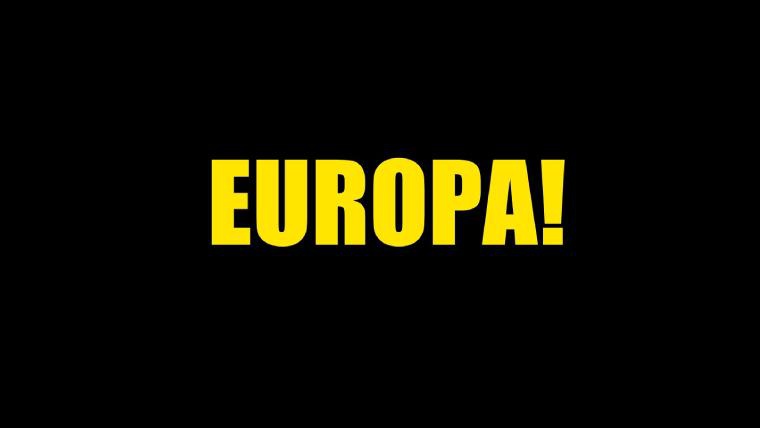 Espai: Hall
Thought. Olga Tokarczuk, J. M. Coetzee, Enzo Traverso, Olivette Otele, Lea Ypi, Srećko Horvat, Edurne Portela, Blanca Garcés, Mathias Énard and Valerie Miles reflect on the sense of Europe today.
From 27 to 30 September, the Centre de Cultura Contemporània de Barcelona (CCCB) will be hosting Europe! , a cycle of debates that invites us to imagine a new meaning for Europe, recovering and expanding the confidence in the future of its early years.
With the Nobel Literature Laureates Olga Tokarczuk and J. M. Coetzee , the historians Enzo Traverso and Olivette Otele , the philosophers Lea Ypi and Srećko Horvat , the writers Edurne Portela and Mathias Énard , the political scientist Blanca Garcés and the editor Valerie Miles we will delve into the lessons we can learn from common history, from war and fascism, exploring the meanings of the words frontier and freedom. Through literature, we will imagine new narratives that will explore the diversity and complexity of our times and open up new horizons for the future of the continent.
Schedule
Days
Hours
Preus
Observation

Dimecres i dijous

a les 18.30 h

Entrada general: 3 €

(per sessió)




Gratuït:

Amics del CCCB

Aturats

Carnet de docent de la Generalitat

Jubilats amb la Targeta Rosa.

Entrades a la venda a partir del 7 de setembre

Divendres i dissabte

a les 18.00 h i
a les 19.45 h
Cicle de debats sobre el sentit d'Europa avui amb els Premis Nobel de Literatura Olga Tokarczuk i J.M. Coetzee, els historiadors Enzo Traverso i Olivette Otele, els filòsofs Lea Ypi i Srećko Horvat, els escriptors Edurne Portela i Mathias Énard i la investigadora Blanca Garcés.
Avui, més de 60 anys després de la seva creació, la Unió Europea ha de fer front a grans reptes que posen en risc alguns dels seus valors fundacionals. Per a les generacions més joves, queda lluny l'impuls que va fer néixer el projecte, profundament marcat per l'espectre de la Segona Guerra Mundial i el clam per construir la pau al continent.
Del 27 al 30 de setembre al CCCB, aquest cicle de debats es proposa imaginar un nou sentit per a Europa, recuperant i expandint la confiança en el futur dels seus inicis. Ens endinsarem en les lliçons que podem aprendre de la història comuna, de la guerra i els feixismes, i explorarem els significats de les paraules frontera i llibertat. Des de la literatura, imaginarem nous relats que transitin per la diversitat i la complexitat del nostre temps i obrin nous horitzons de futur per al continent.
Cicle organitzat en el marc de la Presidència Espanyola del Consell de la UE i amb el suport de l'Oficina de Coordinació de la Presidència espanyola de la UE.
27 de setembre
Olga Tokarczuk. Literatura, el més vell dels continents
28 de setembre
Lea Ypi i Srećko Horvat. Els camins de la llibertat
29 de setembre
Olivette Otele i Blanca Garcés. Noves i velles fronteres
Mathias Énard i Edurne Portela. Un continent fet de paraules
30 de setembre
Enzo Traverso. Europa, laboratori d'idees
J. M. Coetzee i Valerie Miles. Europa i el món de fora
Address:

C Montalegre, 5

:

Ciutat Vella

Neighborhood:

el Raval

City:

Barcelona
When

From 27/09/2023 to 30/09/2023
You may also be interested in...