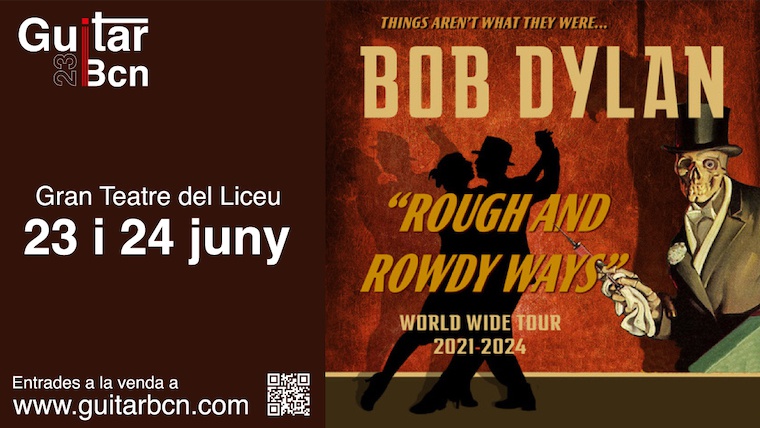 Les entrades es posen a la venda el dimecres 15 de març a partir de les 10 h al web de guitarbcn.com
Folk. The 'Rough and Rowdy Ways' world tour comes to Barcelona with two concerts in the city.
Bob Dylan returns to Barcelona with two concerts at El Liceu, on 23 and 24 June, as part of the Guitar BCN festival.
The great US folk legend will be presenting the album Rough and Rowdy Ways, with ten original songs.
The concerts will be phone free, with no mobile phones permitted inside the venue.
Tickets go on sale on at 10 am on Wednesday, 15 March, on the website for The Project.
Schedule
| | Days | Hours | Preus | |
| --- | --- | --- | --- | --- |
| | Divendres i dissabte | a les 21.00 h | | |
Bob Dylan actuarà a Espanya el juny del 2023 presentant Rough and Rowdy Ways Tour
La gira mundial va començar el passat 2 de novembre del 2021 a Milwaukee (Wisconsin) i s'allargarà fins al 2024.
Però abans al juny, Bob Dylan, tornarà a Espanya amb un repertori centrat en el trentè novè àlbum d'estudi "Rough and Rowdy Ways"
Aquest concert és un "PHONE FREE SHOW", això significa que els telèfons no estan permesos a la sala durant el concert.
Com funciona?
Quan arribis al recinte, Yondr (l'empresa de fundes per a telèfons contractada per a aquest concert) posarà a la teva disposició el seu personal especialitzat per ajudar-te a guardar el teu telèfon en una funda tancada i segura, que portaràs amb tu durant tota la vetllada.
Què he de fer si tinc una emergència i necessito accedir al meu telèfon?
Podeu desbloquejar la butxaca del telèfon en qualsevol moment adreçant-vos a una zona específica i senyalitzada, destinada a l'ús del telèfon. No dubtis a demanar ajut a un membre del personal de Yondr.
Els usuaris que vulguin tenir un record del concert tindran fotografies disponibles al web jackwhiteiii.com i Instagram @officialjackwhite, en què el fotògraf del concert les penjarà i es podran descarregar.
Address:

C la Rambla, 51*59

:

Ciutat Vella

Neighborhood:

el Raval

City:

Barcelona
When

From 23/06/2023 to 24/06/2023
Website
Web venda d'entrades:
You may also be interested in...