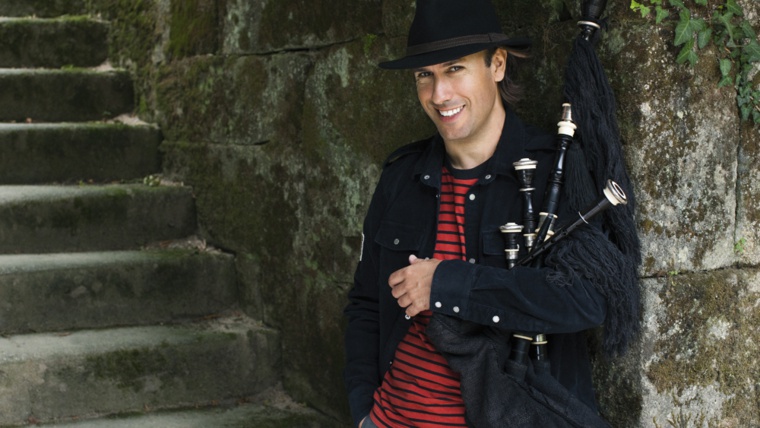 Schedule
Days
Hours
Preus

Divendres

a les 21.00 h

Entrada general de: 18 a 48 €

(+ despeses de gestió)
Others
Occur on:

Tickets sold at:
Carlos Núñez torna un any més a la tradicional Festa de Cap d'Any del Banco Mediolanum Festival Mil·lenni al Palau. Ja han passat 25 anys del seu primer disc, el ja clàssic Irmandade das Estrelas, però el gaiter gallec més internacional no descansa i ens continua oferint novetats i col·laboracions amb artistes de tots els gèneres, des de l'òpera a la música antiga, des del flamenc al trap.
Carlos Núñez (Vigo, 1971) és un instrumentista excepcional que ha venut més d'1 milió de discos amb Sony i el primer a introduir el seu instrument, la gaita, a temples internacionals de la música com el Musikverein de Viena, el Carnegie Hall de Nova York, Boston Symphony Hall, Royal Albert Hall de Londres, Sydney Opera House, o Berliner Philharmoniker. Des que els seus mentors, els llegendaris irlandesos The Chieftains, li transmetessin la seva idea de la música cèltica com a oberta i profunda, ha col·laborat amb artistes tan variats i emblemàtics com Joan Manuel Serrat, Luz Casal, el guitarrista nord-americà Ry Cooder o els flamencs Vicente Amigo i Juan Manuel Cañizares, Roger Hodgson de Supertramp, Mike Scott dels Waterboys, Jackson Browne, els cubans Omara Portuondo o el mort Compay Segon, els oscaritzats Gustavo Santaolalla o Ryuichi Sakamoto, els brasilers Milton Nascimento o Carlinhos la Bryn Terfel, o de la música antiga Jordi Savall, la cantaora Carmen Linares o Enrique Morente, la també desapareguda Montserrat Caballé o fins i tot el seu "paisà gallec" Julio Iglesias.
Address:

C Palau de la Música, 2

:

Ciutat Vella

Neighborhood:

Sant Pere, Santa Caterina i la Ribera

City:

Barcelona
When

30/12/2022
Website
Web venda d'entrades:
You may also be interested in...