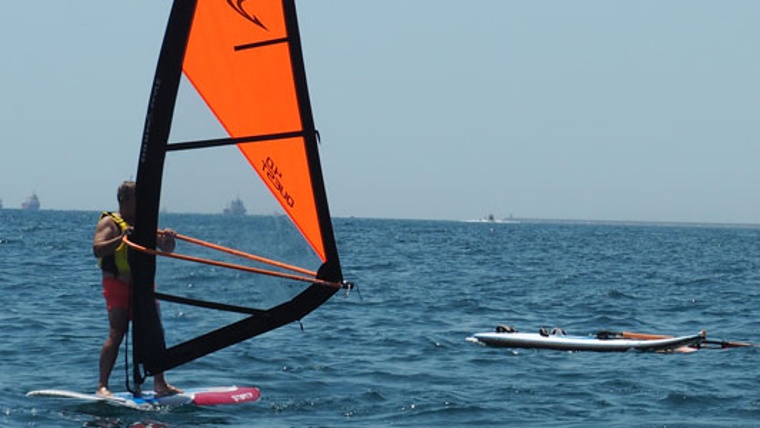 Windsurfing. Courses for adults at basic, intermediate or advanced level, all year round.
Fancy learning to windsurf? Perhaps you've already tried it and want to perfect your skills?
At the Municipal Sailing Centre you'll find a course to suit you, whatever your level.
Courses consist of 8 hours, distributed into 4 sessions. Each one starts with a theory section, before participants take to the water for a practical section to put the that theory into practice through various exercises.
The overall goal is for you to be able to prepare your materials, sail and get back to the shore on your own.
You can find more information here.
Schedule
Days
Hours
Preus
Observation

Tots els dies

Entrada general: 195 €

Abonats 137 €
Others
Occur on:

Organised by:
Vols aprendre o perfeccionar la navegació a Windsurf ? Prova els nostres cursos d'adults , aprendràs i gaudiràs del mar!
Oferim cursos de Nivell Bàsic, Mig i Avançat tot l'any, entre setmana de dilluns a dijous (a l'estiu) o els caps de setmana (comencen el primer i el tercer cap de setmana de cada mes).
Els cursos són de 8 h distribuïdes en 4 session s. Cada una s'estructura en una part teòrica a l'inici, on s'imparteixen els continguts que després s'aplicaran a l'aigua, i una part pràctica a l'aigua on es plantejaran diversos exercicis per posar en pràctica els continguts teòrics.
Els continguts i el material a utilitzar s'estructura en funció del nivell dels alumnes i de les condicions climatològiques. L'objectiu final és que sigueu capaços de preparar el material, navegar i tornar a terra de manera autònoma. Després d'haver realitzat un mínim de tres cursos i haver aconseguit el nivell avançat , l'instructor o instructora serà qui us validarà i us donarà l'habilitació per poder navegar autònomament amb el nostre material i poder-vos abonar a flota.
Address:

Moll Gregal, 33

:

Sant Martí

Neighborhood:

la Vila Olímpica del Poblenou

City:

Barcelona
When

From 22/01/2022 to 18/12/2022
You may also be interested in...