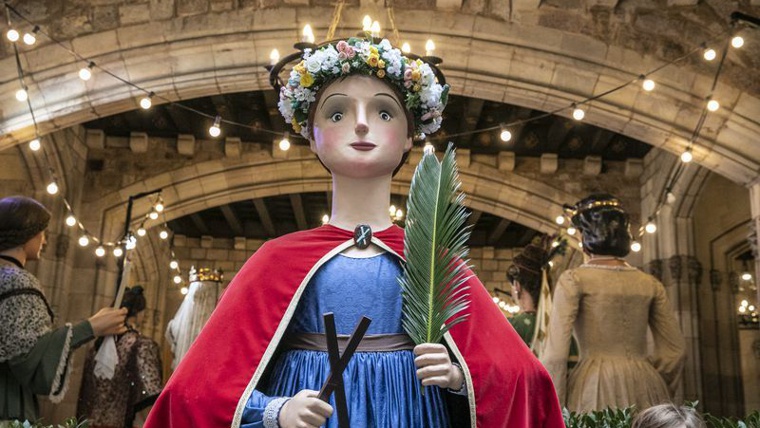 Traditions. The Laia festival is a family event which is one of the most important dates on the city's festive calendar.
Also known as Barcelona's winter festival, the Santa Eulàlia Festivities represent a celebration which is cherished by the people of Barcelona.
Santa Eulàlia, the city's patron saint until the 17th century, was a girl who stood up for her ideas against the Romans. The festivities pay homage to her with special acts such as the procession of the Laies, involving all the giants in Ciutat Vella, along with the opening ceremony for Santa Eulàlia, a parade by the minigiant Laia, with giants, dwarf figures, bigheads and the city's historical festive beast figures making their way around the Gòtic neighbourhood as far as Plaça Sant Jaume, where the parade concludes with a big dance.
Don't miss the human towers meeting in Plaça de Sant Jaume, the traditional dance of the Eagle figure at the Basílica de Santa Maria del Mar or the fire run.
The festivities take place of the weekend of 10 to 12 February, with an extensive programme catering for everybody
Santa Eulàlia és la festa major d'hivern de Barcelona i una gran celebració de la cultura popular d'arrel tradicional. En són protagonistes els membres més joves de les colles i associacions que, any rere any, ens mostren la seva vitalitat i el seu talent creatiu. A la gegantona Laia, l'acompanyen els gegants i les gegantes, els dracs, els diables, l'Àliga de la Ciutat i moltes altres de les nostres figures festives.
Per primer cop, el cant coral participa en les festes amb les veus més joves del Raval i els veterans Cors de Clavé, mentre que la Diada Castellera de Santa Eulàlia inaugura un any més la temporada amb la participació de totes les colles de la ciutat. Pel que fa a la dansa, a les ballades de sardanes i mostres d'esbarts s'hi sumen les colles bastoneres.
Diversos equipaments i espais de la ciutat
Address:

Plaça de Sant Jaume, 1

:

Ciutat Vella

Neighborhood:

el Barri Gòtic

City:

Barcelona
Where

Diversos equipaments i espais de la ciutat
When

From 10/02/2023 to 12/02/2023
Website
You may also be interested in...