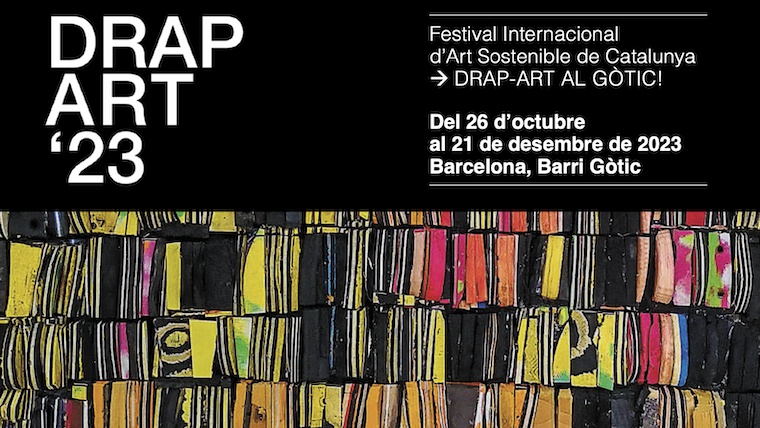 Sustainable art. From collective exhibitions in important galleries in the Gòtic neighbourhood to action in iconic spaces in Barcelona.
The 27th International Sustainable Art Festival of Catalonia, Drap-Art 23, is being held from 26 October to 21 December, filling the Gòtic neighbourhood with artistic projects to prompt reflection and action on the environment and our inner voices.
This is a festival brimming with local and international collaboration, highlighting the importance of collaboration and awaking our environmental awareness, from installations of recycled paper to collective exhibitions in iconic spaces in Barcelona.
És hora de celebrar el retorn del Festival Internacional d'Art Sostenible de Catalunya, amb els seus 27 anys de trajectòria, torna una altra edició al barri Gòtic de Barcelona!
Enguany, ens emociona anunciar l'inici d'una sèrie d'esdeveniments destacables que posen de manifest la importància de la col·laboració i el despertar de la consciència ambiental.
Aquest any, hem presenciat una floració de l'art i la cultura a Ciutat Vella, amb galeries i espais culturals emergents que nodreixen un vibrant paisatge artístic. A més, ens il·lusiona anunciar la nostra participació en esdeveniments internacionals, incloent el Festival Cósmica a Montevideo i la Westbund Art & Design Fair a Shanghai. Aquestes col·laboracions ens permeten unir forces amb artistes i visionaris de tot el món, posant de relleu la importància d'unir-nos per a un present sostenible.
Inaugurem el festival amb tres dates i col·laboracions imperdibles:
Dijous 26/10 – 19h a 22h
Inauguració amb parlaments inaugurals i DJ convidat Fonki Cheff. Drap-Art Pop Up Gallery al Carrer Ample 13, davant Plaça de la Mercè.
Dissabte 28/10 – 19h a 23h
Concerts inaugurals a la Plaça del Rei. Artistes convidats: Orquesta Basura, La Maga, Ominira, DJ Fonki Cheff
Dimarts 31/10 – 19h a 21h
Inauguració de l'exposició col·laborativa a Test Gallery, plaça Milans: exposen grup de Street art Pomme de Boue i Jordi Prat Pons. 20h Concert Wagner Pa & Os Parceiros, Plaça Milans.
Programació en PDF: https://www.drapart.org/wp-content/uploads/2023/10/Programa-Cartel-Drap-Art23-A4-CAT_compressed.pdf
Diferents espais del Barri Gòtic
:

Ciutat Vella

Neighborhood:

el Barri Gòtic

City:

Barcelona
Where

Diferents espais del Barri Gòtic
When

From 26/10/2023 to 21/12/2023
You may also be interested in...