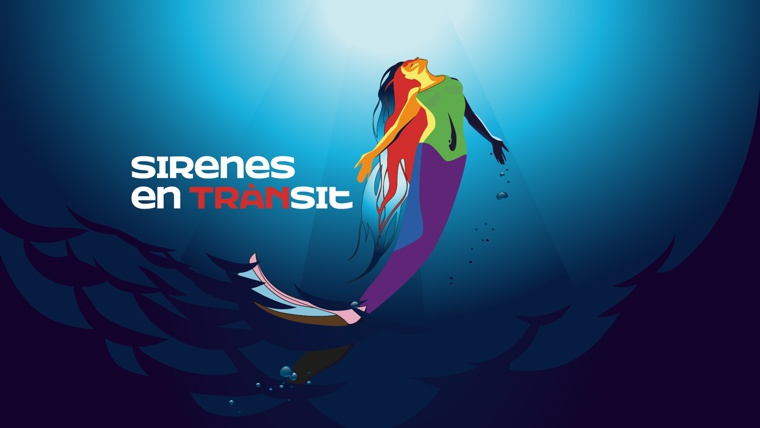 Exhibitions. What do mermaids represent for the LGBTIQ community?
Mermaids are symbols for very different stories depending on the time and context: seafarers considered them fascinating but dangerous creatures they might encounter when sailing far from home; for the Church they represented the temptations that could lead men astray; they are often identified with the world of childhood due to the innocence of believing in a fantasy world; and their strength makes them a symbol of female empowerment for some women. But what do they represent for the LGBTIQ community?
This interpretation space explores why these elusive beings that are so hard to pin a label to, beings that belong both to the water and to the land, half women and half fish, are symbolic of "body positivity" and of being comfortable in one's own skin. Just look at how they often appear in Pride parades around the world, alongside the rainbow flag.
Schedule
| | Days | Hours | Preus | |
| --- | --- | --- | --- | --- |
| | Tots el dies | de 10.00 h a 20.00 h | Entrada Gratuïta | |
Les sirenes simbolitzen històries molt diferents segons l'època i el context: la gent de mar les considerava éssers fascinants i perillosos que es podien trobar quan navegaven lluny de casa; per a l'Església representaven les temptacions que conduïen els homes a la perdició; molta gent les identifica amb el món de la infantesa, per la innocència que suposa creure en un món fantàstic i algunes dones les identifiquen com el símbol de l'empoderament femení, per la seva força. Però què representen per a la comunitat LGTBIQ?
Aquest espai d'interpretació analitza perquè aquests éssers, tan difícils d'etiquetar, que es troben enmig de diverses corporalitats: mig d'aigua i mig de terra, mig dones i mig peixos... són un símbol de la "positivitat corporal" i del sentir-se còmode en la pròpia pell. Només cal veure fins a quin punt solen aparèixer a les desfilades de l'Orgull d'arreu del món, juntament amb la bandera de l'arc de Sant Martí.
L'espai ha estat comissariat per Sacha Coward, historiador de l'art i col·laborador durant diversos anys del Royal Maritime Museum of Greenwich com a Community Participation Producer, on va desenvolupar diversos projectes amb joves de la comunitat LGTBIQ entorn de les sirenes.
Address:

Avinguda de les Drassanes, 1

:

Ciutat Vella

Neighborhood:

el Raval

City:

Barcelona
When

From 28/06/2022 to 28/09/2022
Website
Web:
You may also be interested in...