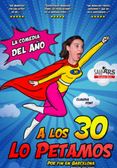 Schedule
Days
Hours
Preus
Observation

Divendres

a les 20.30 h

Entrada general de: 12 a 20 €

Més despeses de gestió

Durada: 70 minuts

Aforament limitat
Others
Occur on:

Tickets sold at:
Tenia moltes ganes de muntar una producció que parlés de la trentena, ja que la considero la dècada més inestable, més boja i més feliç, almenys aquesta és la meva experiència i crec que la de molts altres.... És la dècada en la qual volem ja d'una vegada independitzar-nos definitivament i molts no poden.... És la dècada que ens plantegem ser pares i molts no poden.... És la dècada de tenir una ocupació que ens agradi i estabilitzar-nos econòmicament i molts no poden.... I en aquesta època a més estan les aplicacions que ens han canviat la vida....les xarxes socials.... De tot això parla A los 30 lo petamos!!!
Si has viscut aquesta dècada recordaràs moltes coses fetes en clau d'humor que et portin molts riures, si ets de la dècada et veuràs reflectit en moltes situacions i també riuràs i si encara no l'has viscut estràs previngut pel que t'espera i ploraràs o riuràs això depèn de com el vulguis veure.... El tema segur que no et deixarà indiferent....
Actriu: Esther Cuspinera
Director: Xavi Fuster
Guió: Agusti Franc
Cartell: Victor Ugedo
Foto Cartell: Sandra Mateo
Tècnica: Miranda Callejón
Address:

C Jonqueres, 15

:

Ciutat Vella

Neighborhood:

Sant Pere, Santa Caterina i la Ribera

City:

Barcelona
When

From 17/09/2021 to 29/10/2021
Website
Web venda d'entrades:
You may also be interested in...