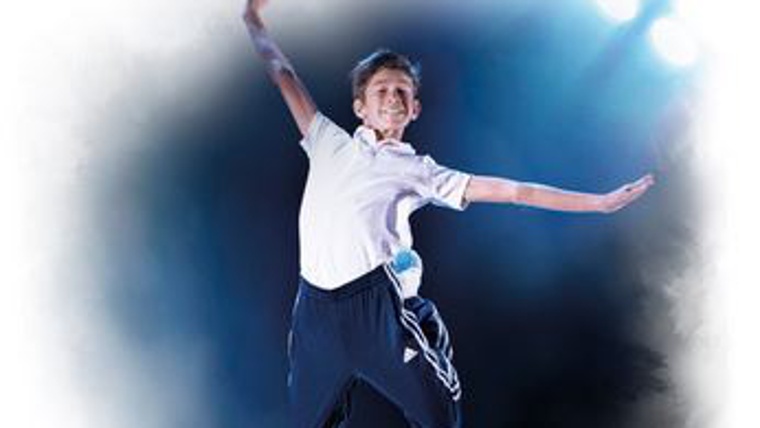 Schedule
Days
Hours
Preus
Observation

Dimarts, dimecres i dijous, 20 desembre,
27 desembre i
3 gener excepte 2 novembre, 6 desembre, 8 desembre, 9 desembre i 5 gener

a les 20.00 h

Entrada general de: 34.91 a 89.9 €

(+ despeses de gestió)

Aforament limitat




Durada: 2 hores

Divendres, 1 novembre,
6 desembre,
8 desembre i
26 desembre excepte 24 desembre i 31 desembre

a les 17.00 h

Dissabte excepte 25 desembre i 1 gener

a les 16.30 h i
a les 20.30 h

25 desembre

a les 19.30 h

1 gener

a les 20.30 h

Diumenge excepte 26 desembre

a les 12.00 h i
a les 17.00 h
Others
Occur on:

Tickets sold at:
BILLY ELLIOT El Musical, un dels espectacles més apassionants del món, arriba al Teatre Victoria de Barcelona després d'onze anys a Londres, quatre a Broadway i tres a Madrid.
El musical narra la història del jove Billy, nascut en una ciutat del nord d'Anglaterra en la qual els homes practiquen la boxa i treballen en la mina. Cap d'ells balla ni alberga ambicions de presentar-se a la Royal Ballet School. Però Billy és diferent. Criat per un pare vidu, sense l'afecte d'una mare, a Billy no li agrada la boxa però està captivat per la gràcia i la meravella del ballet. Amb fèrria determinació lluitarà per a aconseguir els seus somnis, retornant la unió a la seva família i la fe a una comunitat devastada pel convuls final de la indústria minera britànica.
A partir de la seva estrena al Teatre Victoria i ateses les característiques de la seva extraordinària posada en escena, BILLY ELLIOT només es podrà veure a Barcelona, sense possibilitat de poder oferir aquesta espectacle en gira.
BILLY ELLIOT inclou un llenguatge que algunes persones poden considerar inadequat per a nens. Espectacle recomanat a partir dels 8 anys.
Address:

Av Paral.lel, 65*67

:

Sants-Montjuïc

Neighborhood:

el Poble-sec

City:

Barcelona
Where
When

From 09/10/2021 to 27/03/2022
Website
Web venda d'entrades:
You may also be interested in...