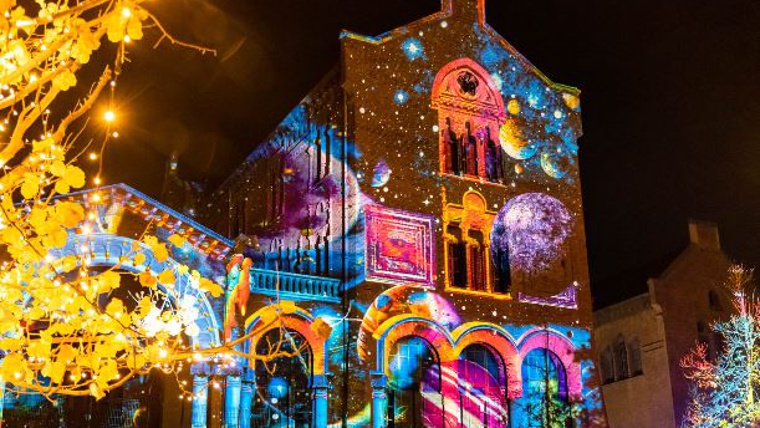 Schedule
Period
Days
Hours
Preus
Observation

Del 21 novembre al 4 desembre

Cada dia

de 18.00 h a 21.30 h

Entrada general de: 10 a 16 €




Adults:

De dilluns a dijous (excepte festius, vigília de festius i dates especials): 12 €
De divendres a diumenge, festius i vigília de festius: 15 €
Dates especials (25/12, 26/12, 01/01, 06/01): 16 €




Menors de 18 anys:

Els menors de 36 mesos tenen l'entrada gratuita
De dilluns a dijous (excepte festius, vigília de festius i dates especials): 10 €
De divendres a diumenge, festius i vigília de festius, i dates especials: 13 €
Dates especials (25/12, 26/12, 01/01, 06/01): 14 €




Estudiantes/Diversitat funcional:

De dilluns a dijous (excepte festius, vigília de festius i dates especials): 10 €
De divendres a diumenge, festius i vigília de festius, i dates especials: 13 €
Dates especials (25/12, 26/12, 01/01, 06/01): 14 €




Pista de Gel:

Preu: 5 € (cal també

pagar l'entrada general )

Durada: 20 minuts (

Els adults acompanyants dels menors de 12 anys no podran accedir sols a la Pista de Gel, han d'adquirir-ne també l'entrada. Queda prohibit accedir als menors de 4 anys)







Els nens i les nenes de fins a 3 anys poden accedir gratuïtament

La guixeta tanca a les 22 h 




La darrera entrada a

Els Llums de Sant Pau

i al recorregut circular és

a les 21.30 h.

Del 5 desembre al 7 gener

Cada dia excepte 24 desembre, 31 desembre i 5 gener

de 17.30 h a 21.30 h

Del 8 gener al 14 gener

Cada dia

de 18.00 h a 21.30 h
Others
Occur on:

Tickets sold at:
Per tercer any consecutiu,  Els llums de Sant Pau  transformarà el Recinte Modernista de Sant Pau en l'autèntic epicentre de les llums nadalenques de Barcelona.  'Aquest any torna la màgia del Nadal' és la nova proposta per a aquest 2023 pensada com una experiència completa per a tota la família. Un recorregut on cadascuna de les seves instal·lacions ens injectarà l'esperit nadalenc de maneres molt diverses. Instal·lacions audiovisuals sorprenents on la llum serà la protagonista, però que variarà en fons i forma amb diverses propostes creatives i tecnològiques.
Address:

Carrer de Sant Antoni Maria Claret, 167

:

Horta-Guinardó

Neighborhood:

el Guinardó

City:

Barcelona
When

From 21/11/2023 to 14/01/2024
Website
Web:

Web venda d'entrades:
E-mail
E-mail:

info@elsllumsdesantpau.com
You may also be interested in...