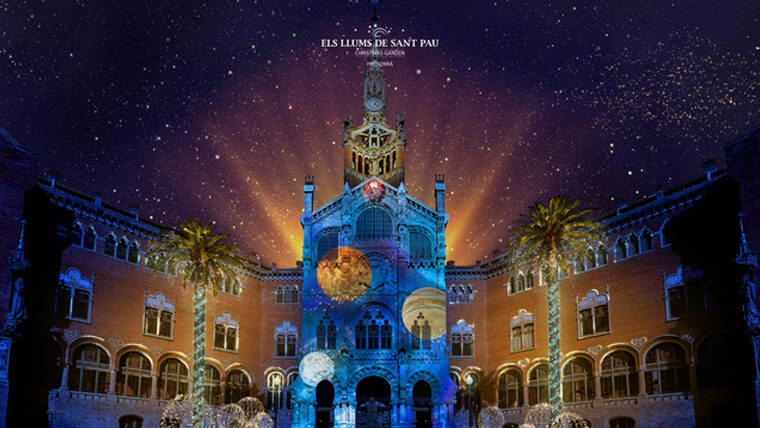 Sensory experience. A magical space, full of light and colours, where you can walk among large-format planets and stars.
Barcelona is once again offering the Christmas event Lights of Sant Pau. The Sant Pau Art Nouveau Site will be a place of lights and colours from 22 November to 15 January, with an expanded route allowing visitors to delve into the mysteries of the cosmos: galaxies, stars, planets and more.
What's out there, further than our eyes can see? Universe of Light is a space where our imagination can soar. This Christmas experience for all the family includes over 20 light installations along a route covering more than a kilometre. The various structures feature projections, sensory tunnels and a large-format journey among planets and stars.
This set of latest-generation technology invites us to enjoy a fully immersive experience in an extraordinary environment, declared a UNESCO World Heritage Site.
Schedule
Days
Hours
Preus
Observation

Tots el dies excepte 24 desembre, 31 desembre i 5 gener

de 18.00 h a 21.30 h

Entrada general de: 10 a 14 €

De dilluns a dijous: 12 € (+ despeses)
De divendres a diumenge, festius i vigílies de festius: 14 € (+ despeses)




Entrades amb preu reduït: de 10 a 12 € (+ despeses)




2 adults i 2 menors d'edat (pack familiar)
persones amb diversitat funcional
estudiants
majors de 65 anys
menors de 18 anys.




Els nens i les nenes de fins a 3 anys poden accedir gratuïtament

La guixeta tanca a les 22.00 hores 

La darrera entrada a Els Llums de Sant Pau i

al recorregut circular és a les 21.30 hores.
Others
Occur on:

Tickets sold at:
Del 22 de novembre al 15 de gener el Recinte Modernista de Sant Pau es tornarà a vestir de llums i colors amb un nou concepte. Aquest any El llums de Sant Pau presenta l'Univers de la Llum.
Un recorregut ampliat que permetrà endinsar-nos dins els misteris del cosmos: galàxies, estrelles, planetes… Que hi ha mes enllà del que els nostres ulls poden contemplar? L'Univers de la Llum serà un espai on fer volar la imaginació, un esdeveniment nadalenc amb més de 20 instal·lacions per a petits i grans.
Organitzat per Proactiv
Address:

Carrer de Sant Antoni Maria Claret, 167

:

Horta-Guinardó

Neighborhood:

el Guinardó

City:

Barcelona
When

From 22/11/2022 to 15/01/2023
Website
Web:

Web venda d'entrades:
You may also be interested in...