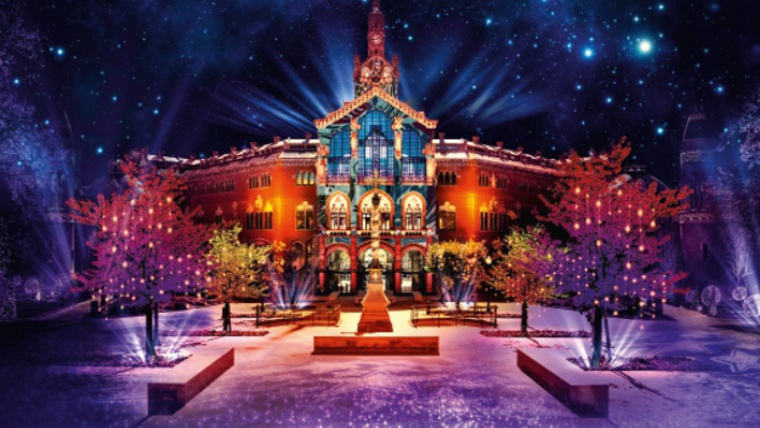 Shows. The gardens of the Modernista Site are turned into a luminous world of magic and fantasy.
Every evening, we begin a magical tour of Barcelona's great Modernista treasure. From 22 November 2021 to 9 January 2022, the Modernista Site is holding   "The Lights of Sant Pau", a very special evening stroll in the open air.
From 6 pm to 10 pm, the gardens of Sant Pau are turned into a luminous landscape, with light shows, impressive staged flora and creative light figures.
Come and enjoy an itinerary over one kilometre long, taking you to a world of magic and fantasy!
Schedule
Days
Hours
Preus
Observation

Tots el dies excepte 24 desembre, 31 desembre i 6 gener

de 18.00 h a 22.30 h

Entrada general de: 10 a 14 €

De dilluns a dijous: 12 € (+ despeses)
De divendres a diumenge, festius i vigílies de festius: 14 € (+ despeses)




Entrades amb preu reduït: de 10 a 12 € (+ despeses)

2 adults i 2 menors d'edat (pack familiar)
persones amb diversitat funcional
estudiants
majors de 65 anys
menors de 18 anys.




Els nens i les nenes de fins a 2 anys poden accedir gratuïtament

La guixeta tanca a les 21.30 hores.  

La darrera entrada a Els Llums de Sant Pau i

al recorregut circular és a les 21.30 hores.
Others
Occur on:

Tickets sold at:
Cada capvespre comença un viatge màgic per la gran joia modernista de Barcelona. Del 22 de novembre de 2021 fins al 9 de gener de 2022, el Recinte Modernista acull "Els Llums de Sant Pau", un passeig nocturn a l'aire lliure molt especial.De 18 a 22 h, els jardins de Sant Pau es transformen en un lluminós paisatge amb jocs de llums, una impressionant flora escenificada i creatives figures lumíniques. Vine a gaudir de més d'un quilòmetre de recorregut que et transportaran a un món de màgia i fantasia!
Organitzat per Proactiv
Address:

Carrer de Sant Antoni Maria Claret, 167

:

Horta-Guinardó

Neighborhood:

el Guinardó

City:

Barcelona
When

From 22/11/2021 to 09/01/2022
Website
Web:

Web venda d'entrades:
You may also be interested in...