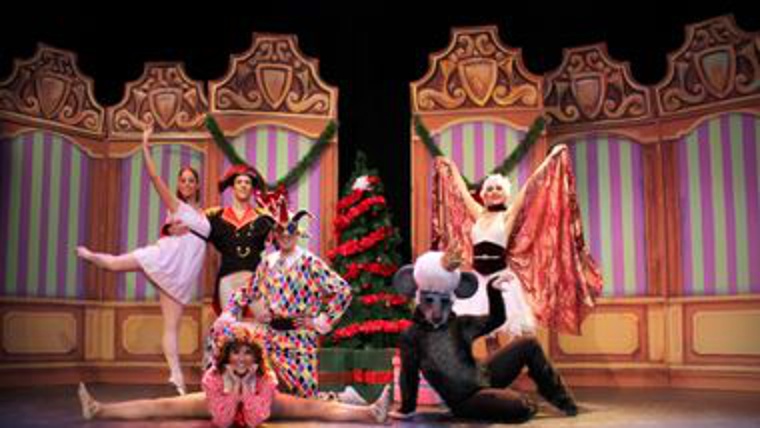 Schedule
Days
Hours
Preus
Observation

Dissabte i diumenge, 27 desembre,
28 desembre,
29 desembre,
30 desembre,
31 desembre,
3 gener i
4 gener excepte 25 desembre i 1 gener

a les 12.00 h

Entrada general: 10 €




(+ despeses de gestió)
Others
Occur on:

Tickets sold at:
Som-hi Dansa presenta una versió moderna i teatral del ballet del TRENCANOUS. Un espectacle de dansa, narrat en veu en off, on s'explica l'origen de la llegenda del Trencanous. L'espectacle combina dansa clàssica amb dansa jazz.
Sinopsi
Tothom coneix el Ballet del Trencanous, però poca gent coneix la llegenda.
En aquest espectacle descobrirem perquè, fa molts i molts anys en el país de Nuremberg, un noi anomenat Daniel es converteix en un ninot de fusta anomenat Trencanous i queda limitat a trencar nous amb la boca tota la seva vida.
Explicarem amb música i dansa la llegenda d'aquest personatge tan i tan conegut, que Clara rep com a regal de Nadal del seu tiet Drosselmeier, molts anys després d'haver-se convertit en ninot.
Veurem com Clara ajudarà al Trencanous a vèncer l'exèrcit de rates i trencarà l'encanteri tornant així a la seva forma humana. A partir d'aquí gaudirem d'un viatge màgic que emprendran cap al país del sucre, guiats per la fada de la nit.
Producció:
Som-hi Dansa
Idea i direcció:
Laura Olivella
Pau Doz
Narradora - Laia Torremorell
Trencanous - Guillem Gamell i David Jordán
Clara - Paula Pérez
Reina ratona - Txell Gilabert
Fada de la nit - Irina Edery
Nina - Sara Redondo
Tècnica de llums i so
Carla Verdú
Address:

Av Sarrià, 33

:

Eixample

Neighborhood:

la Nova Esquerra de l'Eixample

City:

Barcelona
Where
When

From 04/12/2022 to 29/01/2023
Website
Web venda d'entrades:
You may also be interested in...