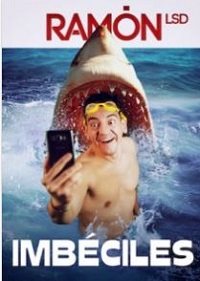 Schedule
Days
Hours
Preus
Observation

Dissabte excepte 25 desembre, 1 gener, 22 gener i 29 gener

a les 21.00 h

Entrada general de: 20 €
Anticipada: 14 €
(+ despeses de gestió)

Aforament limitat

Cal reserva prèvia




Durada: 1 hora i 15 minuts.

26 octubre

a les 22.00 h

6 desembre i
29 gener

a les 19.00 h

22 gener

a les 23.00 h
Others
Occur on:

Tickets sold at:
Com sorgeixen els imbècils? ¿Neixen a l'atzar o és necessari que algun dels pares també sigui imbècil? Sí, perquè convertir-te tu en un tampoc és fàcil ja que no hi ha cursos ni beques per formar-se. L'única cosa segura és que existeixen, viuen entre nosaltres ... i sorprenen! Sí, sorprenen, perquè quan creus que en la teva vida ja has conegut al més imbècil dels imbècils possibles, de sobte apareix un altre que bat els rècords de tots els anteriors.
Posa't fora de perill dels imbècils amb aquest divertidíssim monòleg! Ramón LSD t'ajudarà a identificar-los, esquivar-los i sobretot, a evitar tornar-te un d'ells.
Address:

C Riereta, 7

:

Ciutat Vella

Neighborhood:

el Raval

City:

Barcelona
When

From 10/04/2021 to 29/01/2022
Website
Web venda d'entrades:
You may also be interested in...