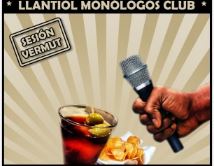 Schedule
Days
Hours
Preus
Observation

Divendres excepte 24 setembre

a les 20.00 h

Entrada general de: 16 €

Entrada anticipada: 12 €
(+ despeses de gestió)

Aforament limitat

Cal reserva prèvia




Durada: 2 hores

Dissabte, 24 setembre i
6 desembre

a les 12.00 h

Diumenge

a les 12.00 h i
a les 18.30 h
Others
Occur on:

Tickets sold at:
Vols un bon pla pel diumenge al migdia? Gaudeix d'un vermut veient un espactacle de comèdia en viu en aquest mític Cafè-teatre del Raval.
Amb l'entrada et convidem a un vermut, una canya o un refresc. També podràs demanar una tapa i emportar-te-la a la taula durant l'espectacle.
Cada funció és impredictible, el riure és l'únic objectiu comú. Les actuacions són de còmics i humoristes professionals d'estils molt diferents, alhora que també és possible trobar en ocasions una mica de música i altres seccions, sempre en clau d'humor. No et quedis sense taula!
Address:

C Riereta, 7

:

Ciutat Vella

Neighborhood:

el Raval

City:

Barcelona
When

From 09/04/2021 to 26/12/2021
Website
Web venda d'entrades:
You may also be interested in...