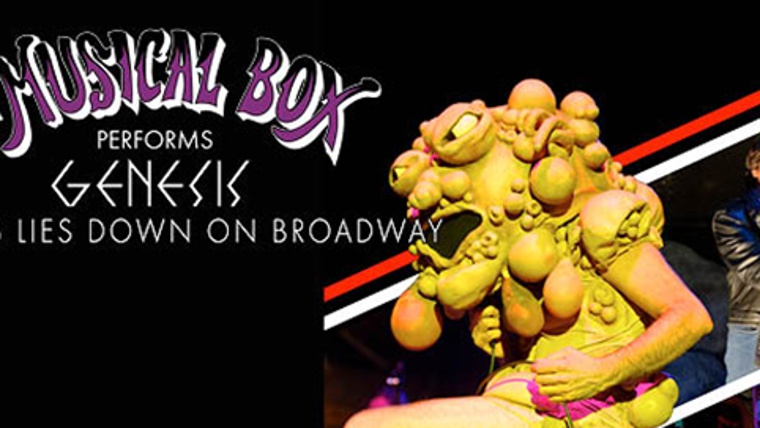 Les funcions previstes pel 29 i 30 de gener de 2022 queden ajornades al 28 i 29 de gener de 2023. Les entrades ja adquirides seran vàlides per la nova data.
Schedule
Days
Hours
Preus

Dissabte i diumenge

a les 20.30 h

Entrada general de: 28 a 56 €
(+ despeses de gestió)
Recrear la gira de ´The Lamb Lies Down On Broadway´ ha estat, sense cap mena de dubte, el major repte que se li ha presentat a The Musical Box. Quan al 2000 van rebre per primer cop la llicència de Genesis i Peter Gabriel per recrear aquest tour, el que cap grup havia aconseguit abans, es van prometre fer-ho amb una fidelitat mil·limètrica. Després d´un treball documental sense precedents, gràcies en gran part al suport de Genesis, que els va entregar 1.200 diapositives originals, The Musical Box va aconseguir recrear amb meticulosa precisió les màscares, disfresses, maquillatge, llums, efectes especials i coreografies d´aquella gira. Fins i tot els mateixos instruments i equips, incloent la guitarra de Michael Rutherford. El resultat va ser tal que el mateix Phil Collins va exclamar "és una sensació esgarrifadora perquè ens han capturat tal com érem en aquell moment". "Nosaltres (Genesis) probablement només vam oferir uns pocs espectacles durant els quals tot va funcionar com havia de ser. Avui veureu l´espectacle com hauria d´haver estat en aquell moment", va dir en referència al concert que estaven a punt d´oferir The Musical Box a Canadà.
Address:

Avinguda del Paral·lel, 62

:

Ciutat Vella

Neighborhood:

el Raval

City:

Barcelona
When

From 28/01/2023 to 29/01/2023
Website
Web venda d'entrades:
You may also be interested in...