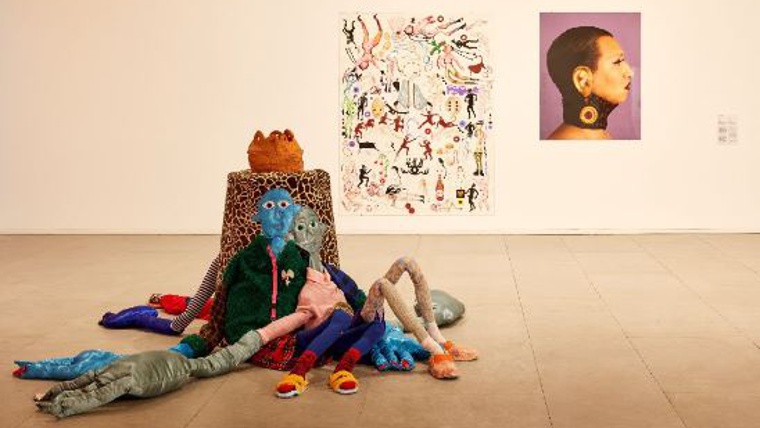 Installations. An interactive exhibition that introduces contemporary art to all ages, especially the youngest.
Amics imaginaris will enable visitors to explore the world of contemporary art in a friendly, fun and engaging way. The aim of the exhibition is to help visitors discover and get to know renowned artists, and to help them lose their fear of contemporary art.
It's structured around nine installations, some of which are classics while others are new works, displayed both in the exhibition rooms at the Joan Miró Foundation and in other parts of the museum.
Most of the installations are interactive, and reflect the contemporary concerns that the artists address through their work, which is linked to different ideas, such as leisure and play.
You'll find pieces by artists from different backgrounds and generations, like Paola Pivi, Kasper Bosmans, Polly Apfelbaum, Meschac Gaba, Afra Eisma, Pipilotti Rist and Martin Creed, most of whom will be exhibiting in a museum in Spain for the first time.
Schedule
Days
Hours
Preus

Dimarts, dimecres, dijous, divendres, dissabte, diumenge i festius

de 10.00 h a 18.00 h

Entrada general: 14 €




Reduïda: 7 €

- Majors de 65 anys

- Estudiants (amb carnet de 15 a 30 anys)

- Titulars carnet de Biblioteques




Grups (+ 15 persones):

- adults: 8 €

- adults (+65 anys): 7 €

- estudiants: 6 €

- infantils (fins 14 anys): 2 €




Espai 13: gratuït




Servei autoguia: 5 €




Passi Anual: 18 €




Articket: 35 €




Gratuït:

- menors 15 anys

- persones a l'atur

- membres ICOM

- 18 de maig (Dia Internacional dels Museus)

- 20 de maig (Nit dels Museus, de 19 a 01 h)
Exposició comissariada per Patrick Ronse i Martina Millà
L'art contemporani canvia constantment amb l'aparició de nous artistes, la construcció de nous llenguatges, la diversificació de materials i la creació de nous discursos. Amics imaginaris és una exposició interactiva que busca introduir aquest art tan canviant a visitants de totes les edats, especialment als més joves.
L'artista i l'obra d'art, com un amic imaginari, han de ser capaços de generar un espai entre l'espectador i la realitat on tot sigui possible, un espai de joc i descoberta. Amics imaginaris permetrà als visitants endinsar-se en el món de l'art contemporani d'una manera amable, divertida i acollidora. L'exposició vol acompanyar l'espectador a descobrir artistes de renom i familiaritzar-s'hi, i animar-lo a perdre la por a l'art contemporani.
L'exposició s'estructura a partir de nou instal·lacions, algunes obres clàssiques i altres de nova factura, distribuïdes tant per les sales d'exposicions de la Fundació Joan Miró com per altres indrets del museu. La majoria de les instal·lacions són interactives i reflecteixen les inquietuds contemporànies que els artistes aborden a través de les seves propostes, vinculades al joc o a l'oci, entre altres.
Hi trobem propostes d'artistes procedents de diferents contextos i generacions, com són Paola Pivi, Kasper Bosmans, Polly Apfelbaum, Meschac Gaba, Afra Eisma, Pipilotti Rist i Martin Creed, la majoria dels quals exposaran per primera vegada en un museu de l'Estat espanyol.
L'exposició es completa amb propostes d'Erwin Wurm i de Jeppe Hein a la Sala 14 i el pati de l'olivera.
Address:

Avinguda de Miramar, 1

:

Sants-Montjuïc

Neighborhood:

el Poble-sec

City:

Barcelona
When

From 17/03/2023 to 02/07/2023
Website
You may also be interested in...