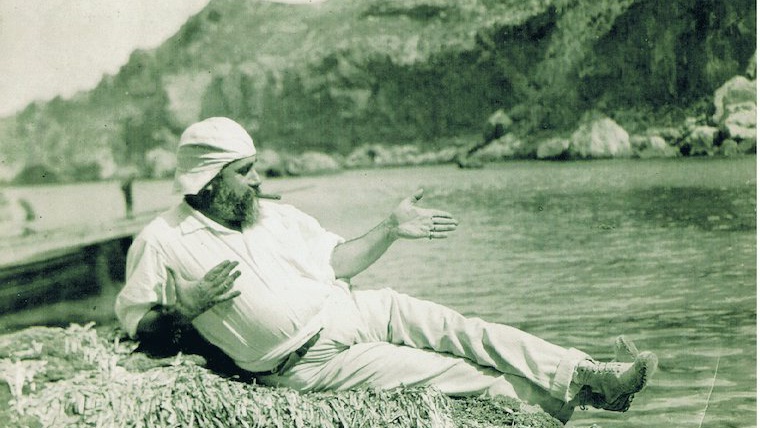 Ubicació: Sala 64
Photography and documentation. This is a unique occasion to discover all the sides of Anglada Camarasa through the documents that he himself generated.
Hermen Anglada Camarasa (Barcelona, 1871 - Port de Pollença, 1959) was an artist who managed and controlled his career with great care. This is demonstrated by his personal archive, which his family have donated to the Museu Nacional and for which the Centre for Research and Knowledge at the museum has produced an inventory. The donation coincides with the 150th anniversary of the artist's birth, also providing an activity as part of the celebrations for Anglada Camarasa Year.
The exhibition Anglada Camarasa. The Premeditated Archive links the collection's archives to a selection of works by Anglada Camarasa, with museum elements recreating the space of an archive.
In this exhibition, the public will also discover the importance of his work and the creative process of Anglada Camarasa, the Catalan artist with the greatest international projection between the eras of Marià Fortuny and Joan Miró.
Schedule
Period
Days
Hours
Preus

Del 10 febrer al 30 abril

Dimarts, dimecres, dijous, divendres i dissabte

de 10:00 h a 18:00 h

Entrada general: 4 €

(dona dret a visitar l'exposició i les sales d'Art Modern II)

Diumenge i festius

de 10:00 h a 15:00 h

De l'1 maig al 7 maig

De dimarts a dissabtes

de 10:00 h a 20:00 h

Diumenge i festius excepte 1 maig

de 10:00 h a 15:00 h
Hermen Anglada Camarasa (Barcelona, 1871 - Port de Pollença, 1959) va ser un artista que va gestionar i controlar la seva carrera amb un gran zel. Així ho demostra el seu arxiu personal, que la seva família ha donat al Museu Nacional i que s'ha inventariat al Centre de Recerca i Coneixement del museu. Aquesta donació coincideix amb l'efemèride del 150è aniversari del naixement de l'artista i, com a activitat, s'integra dintre de les celebracions de l'Any Anglada Camarasa.
L'exposició Anglada Camarasa. L'arxiu premeditat és una ocasió inèdita per conèixer totes les cares de la seva personalitat a través de la documentació que ell mateix va generar. La mostra posa en relació la documentació del fons amb una selecció d'obres d'Anglada Camarasa i ho fa amb una museografia en la qual es recrea l'espai propi d'un arxiu. En aquesta exposició, el públic també descobrirà el procés creatiu d'Anglada Camarasa i la rellevància que va tenir la seva obra, l'artista català amb més projecció internacional entre Marià Fortuny i Joan Miró.
Després d'un procés de digitalització del fons arxivístic a càrrec del Centre de Recerca i Coneixement del museu, i atesa la importància d'aquest fons, s'ha decidit exposar-lo a les sales permanents. Aquesta exposició pretén mostrar els elements més destacats de l'arxiu com fotografies, llibretes i documents diversos i de diferents èpoques contextualitzats amb l'obra de l'artista. També posarà en valor la rellevància d'Anglada Camarasa durant els anys previs i posteriors a la Primera Guerra Mundial, en què fou l'artista català més internacional des de Marià Fortuny.
Es tracta, per tant, d'una exposició de naturalesa híbrida, documental i artística. Entre d'altres elements, es posarà un èmfasi especial en la singular col·lecció de fotografies realitzades –sovint en sèrie- per l'artista, a principis del segle XX i que formen part indiscutible del seu procés creatiu.
Address:

C Mirador Palau Nacional, 6*10

:

Sants-Montjuïc

Neighborhood:

el Poble-sec

City:

Barcelona
When

From 10/02/2023 to 07/05/2023
You may also be interested in...