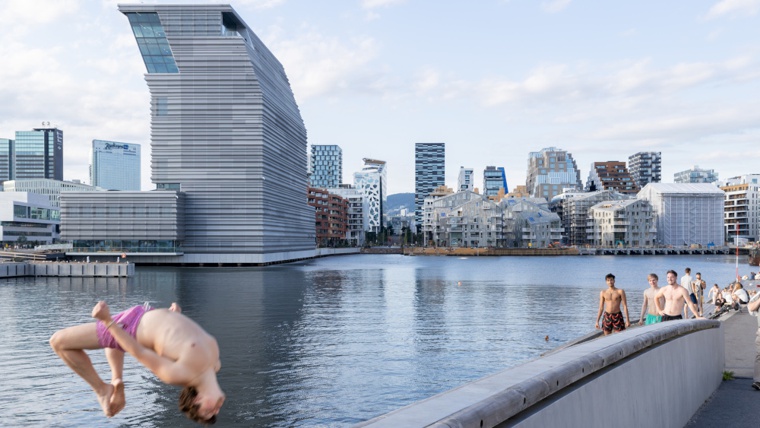 Exhibitions. The project for this museum reflect on the paradigms which renew the language of architecture and the way of experiencing cities today.
This exhibition documents the twelve years of work that Estudio Herreros dedicated to the Munch Museum project in Oslo, coinciding with the opening of the museum in October 2021.
Far from the grammars used for architecture exhibition, the idea of the archive alludes here to a whole series of materials which document the internal history of the project and which now come to light, as they are usually regarded a red tape paperwork by architects' studios.
At a time when most museums are rethinking their assignments and their significance for the public, we thought it was necessary to consider a radically different case: that of a museum built from scratch, a cityscape that changes with the emergence of a new architectural element, a cultural facility that takes its meaning from individual and collective uses.
  Lambda Files. The Project for the Munch Museum in Oslo shows how new ways of doing architecture are the result of intense political and social dialogue, of long-term collaborations between a variety of agents. Among the numerous documents, the exhibition presents for the first time the images taken of the building by the architectural photographer Iwan Baan, which show it from a perspective that is not fetishist or objectual but situated and unexpectedly useful.
The exhibition is completed with a set of dialogues in which major international experts will discuss the paradigms that renew the language of architecture and the way of experiencing cities today.
Schedule
Days
Hours
Preus

De dimarts a diumenges i festius
excepte 25 de desembre
26 de desembre
1 de gener
6 de gener

d'11:00 h a 20:00 h

Entrada Gratuïta
Realitzada en cooperació amb CentroCentro, de Madrid, i arc en rêve, de Bordeus, aquesta mostra documenta els dotze anys de treball que l'Estudio Herreros ha dedicat al projecte del Museu Munch d'Oslo, l'obertura del qual, l'octubre de 2021, coincideix amb la presentació de La Virreina Centre de la Imatge.
El nom de l'exposició, Arxius Lambda, utilitza el lema en el qual es va emparar la proposta per preservar el seu anonimat en el concurs internacional i que, inusualment, va ser usada pels mitjans fins que es va començar a construir l'edifici. Lluny de les gramàtiques emprades per les exposicions d'arquitectura, la idea d'arxiu al·ludeix aquí a tot un seguit de materials que documenten la història interna del projecte i que mai veuen la llum, ja que solen ser considerats com «paper burocràtic» per part dels estudis, els quals arriben a redibuixar els plànols per a unes publicacions netes que desproblematitzen els edificis a què es refereixen.
Enmig d'una conjuntura on la major part dels museus està repensant les seves atribucions i els seus sentits públics, considerem necessari apropar-nos a un cas radicalment diferent: el d'una institució museogràfica que es construeix des de zero, el d'una ciutat que transforma la seva fisonomia amb l'aparició d'un nou element arquitectònic, el d'uns usos ciutadans i col·lectius que donen sentit a una infraestructura cultural.
Així, Arxius Lambda. El projecte del Museu Munch d'Oslo mostra com les noves formes de fer arquitectura són el resultat d'intensos processos de diàleg polític i social, de col·laboracions a llarg termini entre agents diversos. Entre els nombrosos documents que es presenten, cal destacar les imatges inèdites que el fotògraf d'arquitectura Iwan Baan ha realitzat sobre l'edifici, les quals no el mostren des d'una perspectiva fetitxista o objectual, sinó des d'un prisma situat i d'ús imprevist.
L'exposició es completa amb un conjunt de diàlegs on les principals veus de l'escena internacional debatran sobre quins paradigmes renoven, avui, el llenguatge de l'arquitectura i la forma de viure les ciutats.
Address:

C la Rambla, 99

:

Ciutat Vella

Neighborhood:

el Raval

City:

Barcelona
When

From 29/10/2021 to 20/02/2022
Website
E-mail
E-mail:

lavirreinaci@bcn.cat
You may also be interested in...