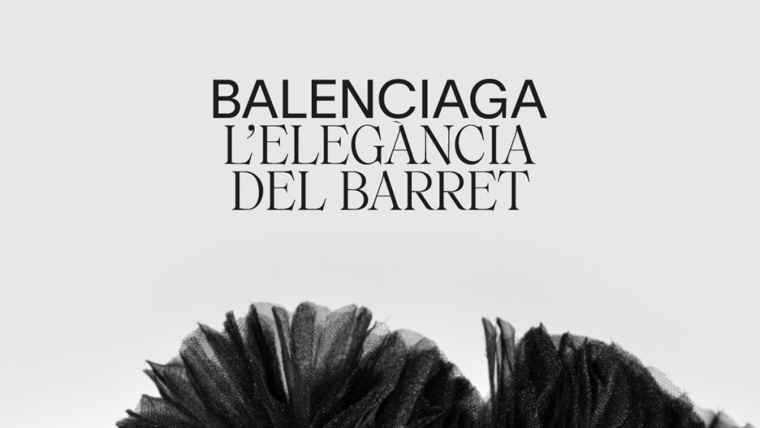 Exhibitions. The city hosts the first international exhibition on the hats of Balenciaga.
Barcelona hosts the first international exhibition focusing on the hats of Balenciaga, regarded as one of the most important creators of high fashion. Jointly produced by the Museu del Disseny de Barcelona and the Cristóbal Balenciaga Museoa, the exhibition presents the results of years of joint research on his hat collections. These hats were created in the headwear departments of the high fashion stores in Paris and Madrid.
Featuring over eighty pieces and ten sets, the exhibition looks at the history of fashion from the end of the 1930s until 1968, when the Balenciaga stores in both capitals closed down. The exhibition offers a chance to take on board the style and form which typified Balenciaga's designs. You'll find hats with refined and stylised shapes, created using simple yet almost abstract forms. 
The exhibition will show you the creative processes used by the designer, from his research into materials and techniques through to the final product. The display also highlights the importance of women in the business, as the departments in Paris and Madrid were headed by women and staffed by saleswomen. You will also get an idea of the social and cultural context of an era when wearing a Balenciaga hat carried absolute prestige with it.
Schedule
Days
Hours
Preus

Dimarts, dimecres, dijous, divendres, dissabte i diumenge

de 10.00 h a 20.00 h

Entrada general: 3 €

Reduït: 2 €
Others
Occur on:

Organised by:
Exposició fruit d'anys de recerca conjunta sobre les col·leccions de barrets del Museu del Disseny de Barcelona i el Cristóbal Balenciaga Museoa, que també coprodueixen la mostra.
Amb més de vuitanta peces i una desena de conjunts, es tracta de la primera exposició internacional centrada en els barrets de Balenciagacreats als departaments de barreteria de la casa d'alta costura a París i Madrid, des de finals dels anys trenta fins al tancament de les cases de Balenciaga el 1968.
Cristóbal Balenciaga va establir un estil i una forma molt característics en els seus dissenys per a barrets, amb volums depurats i estilitzats que es creen mitjançant formes molt simples, gairebé abstractes, sent en si mateixos, autèntiques escultures. La mostra aprofundeix en la singularitat del treball del dissenyador tot ressaltant les formes innovadores, la cerca de materials i tècniques, i el caràcter artesanal de la seva producció de barrets. Posa també en relleu el món femení que donava forma al disseny i les creacions de Balenciaga: els departaments de París i Madrid van ser dirigits per dones, les barretaires, i les venedores també ho eren. Trobarem doncs aquest treball de dones com a contrapunt al món femení que els usava, a les dones "tocades" per Balenciaga.
Des d'una òptica contemporània, la mostra s'aproxima a la importància que tenia aquest accessori per distingir-se en el context social i culturalde l'època donat el gran prestigi que suposava ser clienta de Balenciaga.
Comissaris: Igor Uría, Cristóbal Balenciaga Museoa i Sílvia Ventosa, Museu del Disseny de Barcelona.
Address:

Plaça de les Glòries Catalanes, 37*38

:

Sant Martí

Neighborhood:

el Parc i la Llacuna del Poblenou

City:

Barcelona
When

From 17/06/2021 to 03/10/2021
Website
Web inscripcions:
You may also be interested in...