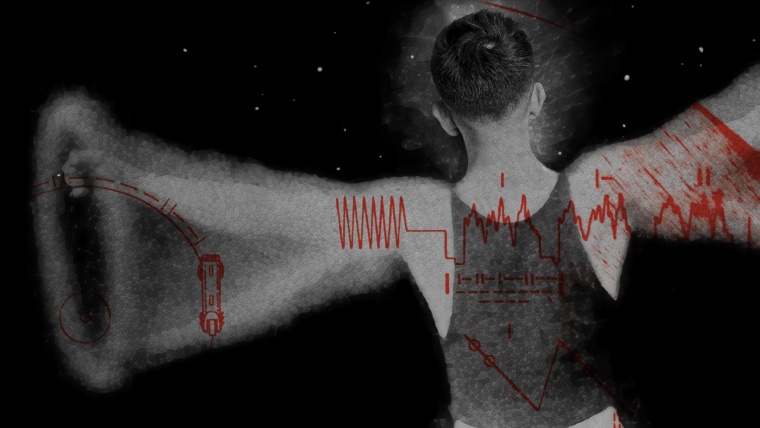 Audiovisual installations. To what extent can algorithmic prediction determine cultural production?
Biennale 2064 is an exhibition about the effects of algorithmic prediction on cultural production.
Throughout the 21st century, the oracles have taken decisions on what's worthwhile and what's not, discarding from the present everything that does not make it possible, and editing the past to fit with the predictions they've made.
You can find more information about the exhibition here.
Schedule
| | Days | Hours | Preus | Observation |
| --- | --- | --- | --- | --- |
| | Dimarts, dimecres, dijous, divendres, dissabte, diumenge i festius excepte 25 desembre, 26 desembre i 1 gener | d'11.00 h a 20.00 h | Entrada Gratuïta | Inauguració: divendres 18 de novembre, 19 h |
Comissaris: Roc Albalat, Jorge Luis Marzo i Arturo fito Rodríguez, membres del col·lectiu Àngela Novo
Inauguració: divendres 18 de novembre, 19 h
Biennal 2064 és una exposició sobre els oracles en l'era de l'anomenada intel·ligència artificial. Si els dispositius digitals acumulen tantes dades és per projectar tota mena de pronòstics de futur. És la funció dels algoritmes, que han pres el relleu dels antics oracles. Els nous auguris, però, tenen tots els punts per complir-se: quan prediuen el futur, descarten del present tot allò que no el fa possible. Alhora, editen el passat per ajustar-lo a la predicció que han fet. Mitjançant aquestes lògiques, la predicció ha esdevingut una eina per refinar les possibilitats del que pot ser viscut i pensat en el futur.
Això té lloc ara mateix, a l'empara de les societats de la urgència on no hi ha temps, el present s'empetiteix i només queda l'esperança del futur. La predicció sorgeix com la força capaç de tornar a expandir el temps, de tornar-lo a recuperar, però també revela i ens permet veure què passa amb la memòria en un règim de dades en el qual les imatges dipositàries de la vida s'han fet vidents i diuen coses que no sabem.
Vet aquí algunes d'aquestes noves sibil·les. En consultar-les sobre la passada Biennal 2064, el gran esdeveniment de l'art immersiu, van acabar parlant d'obres oblidades, de sinergies marginals, de visions descartades al llarg de quaranta anys. Són esquerdes, com les accions de Kriska Li als anys trenta, els fets de la sonda Voyager, l'anarcronisme, els corrents psíquics dels quaranta, els AIconostàsics… experiments destinats a malmetre l'auguri, a interrompre la predicció, a desertar del futur. Molts d'aquests corrents van coincidir en l'assumpció que el pronòstic també és capaç de desactivar l'auguri —un altre dels efectes de la ruptura del temps causal generat per les tecnologies cronopolítiques. Si un model és capaç de suggerir l'aparició d'una amenaça, també pot propiciar l'aparició de falsos positius: demostracions polèmiques que posin en solfa el determinisme de
la predicció.
Address:

C la Rambla, 99

:

Ciutat Vella

Neighborhood:

el Raval

City:

Barcelona
When

From 19/11/2022 to 12/02/2023
Website
You may also be interested in...