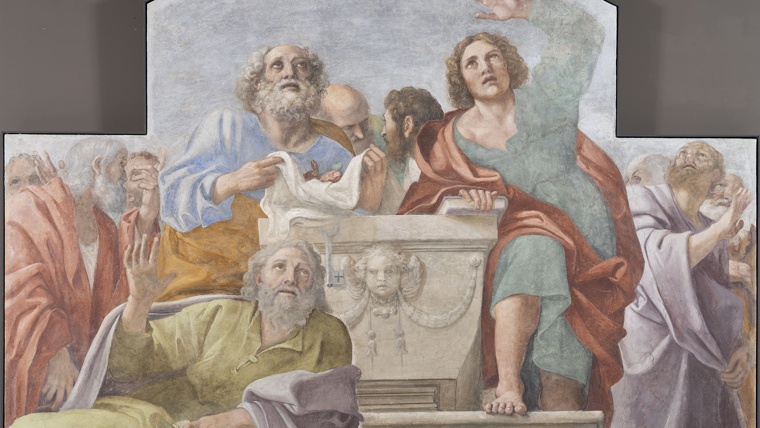 Schedule
Period
Days
Hours
Preus

Del 8 juliol al 30 setembre

De dimarts a dissabtes

de 10:00 h a 20:00 h

Entrada general: 6 €

(inclou la visita a les sales d'art Gòtic i a les de Renaixement i Barroc)

Diumenge i festius

de 10:00 h a 15:00 h

De l'1 octubre al 9 octubre

De dimarts a dissabtes

de 10.00 h a 18.00 h

Diumenge i festius

de 10:00 h a 15:00 h
Els primers anys del segle XVII, l'artista bolonyès  Annibale Carracci es va comprometre amb el noble banquer espanyol Juan Enríquez de Herrera a pintar al fresc la capella de la seva família, fundada per Diego de Herrera, a l'església de Sant Jaume dels Espanyols de Roma. L'artista va concebre tot el conjunt, dedicat al sant franciscà Dídac d'Alcalà, i va iniciar el disseny de tots els cartrons preparatoris. A causa d'una malaltia, a partir del 1605 va haver de delegar el projecte en  Francesco Albani.
Durant la dècada de 1830, els frescos es van arrencar i traspassar a tela, i poc després es van enviar a Espanya. Set dels fragments es va dipositar al  Museo del Prado i els altres nou, els que  actualment es poden veure al Museu Nacional, a la Reial Acadèmia Catalana de Belles Arts de Sant Jordi. Es desconeix la localització dels altres tres fragments que falten per completar el conjunt, tot i que sembla que en el seu dia es van dipositar a l'església de Santa Maria de Montserrato, a Roma.
Completarà l'exposició una selecció de dibuixos atribuïts a Carracci o al seu taller, procedents de la mateixa Acadèmia de Sant Jordi i d'Europa, i la taula de l'altar de Santa Maria de Montserrato, obra també de Carracci i els seus deixebles.
Address:

C Mirador Palau Nacional, 6*10

:

Sants-Montjuïc

Neighborhood:

el Poble-sec

City:

Barcelona
When

From 08/07/2022 to 09/10/2022
Website
You may also be interested in...