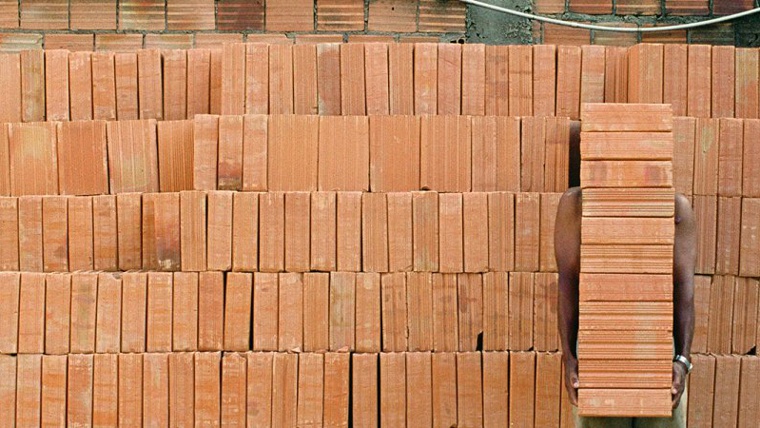 Artistic installation. Comprehensive view of the works of the artist famous for her 'site-specific' installations.
"Una conjunció de factors"  [Cinthia Marcelle: A conjunction of factors] is a perspective on the career of Cinthia Marcelle  (Belo Horizonte,1974), internationally famous for her evocative site-specific installations put up by the artist in cities such as New York, Porto Alegre, Sharjah and Vienna.
Driven by a desire to disrupt the hierarchies that coordinate our everyday lives, Cinthia Marcelle uses her work to highlight her constant concern for re-imagining the dynamics of collectivities. This exhibition is an opportunity for discovering her film work, with its huge visual impact, and her powerful, large-scale installations.
Bringing together work produced from 1999 to today, "Una conjunció de factors" highlights the aesthetic uniqueness of Marcelle's works, from   mise-en-scènes suggestive creation to the development of a poetry of accumulation, multiplication and repetition.
The exhibition also focuses its attention on one of Marcelle's usual practices: involving participants from diverse backgrounds –workers, musicians and individuals she knows – in her artistic productions.
Schedule
Days
Hours
Preus
Observation

dilluns, dimecres, dijous i divendres

d'11:00 h a 19:30 h

Entrada general de: 11 € (l'entrada té validesa durant un mes. Permet accedir a totes les exposicions en curs, a les activitats del programa

MACBA es viu

i a totes les visites guiades)

Entrada reduïda: 8.80 €
- Estudiants
- Carnet Jove
- Majors 65 anys no residents a Barcelona
- Carnet de la Xarxa de Biblioteques Municipals
- Grups (+ de 15 persones)

Entrada gratuïta:
- Cada dissabte de 16 a 20 h
- Menors 14 anys
- Targeta rosa
- Majors de 65 anys residents a Barcelona
- Amics del MACBA
- Socis de l'AAVC
- Membres ICOM
- Persones a l'atur
- Professors
- 10 de febrer (Santa Eulàlia)
- 19 de maig (Nit dels Museus: gratuït de 19 a 1 h)
- 18 de maig (Dia Internacional dels Museus)
- 24 de setembre (La Mercè)
- Estudiants de nacionalitat espanyola de Geografia i Història, de Belles Arts i d'Història de l'Art

Carnet Amic EXPO: 18 €
Entrada il·limitada durant un any.

Articket: 30 €

Cal inscripció prèvia

dissabtes

de 10:00 h a 20:00 h

diumenges i festius
i 26 de desembre
excepte 25 de desembre
1 de gener

de 10:00 h a 15:00 h
Others
Occur on:

Tickets sold at:
El MACBA presenta la primera exposició monogràfica a l'Estat espanyol de l'obra de Cinthia Marcelle, nascuda el 1974 a Belo Horizonte, Brasil, i que viu i treballa a São Paulo.
Durant l'última dècada, Marcelle ha assolit reconeixement internacional per la seva obra fílmica, de gran impacte visual, i les seves poderoses instal·lacions a gran escala. Alhora, el seu treball a escala monumental s'ha acompanyat sempre de dibuixos, fotografies, petits objectes i formes subtils d'intervenció espacial. Aquesta exposició, que aplega un corpus d'obra produït des de principis de la dècada del 2000, posa èmfasi en la preocupació constant de Marcelle per la dinàmica de la col·lectivitat i la poètica de l'acumulació, la multiplicació i la repetició. També posa de manifest la diversitat estètica de la seva obra, que inclou llargues preses estàtiques, mises en scène ambientals i l'ús reiterat de materials i colors que remeten a contextos específics de producció.
Address:

Plaça dels Àngels, 1

:

Ciutat Vella

Neighborhood:

el Raval

City:

Barcelona
When

From 15/07/2022 to 08/01/2023
Website
You may also be interested in...