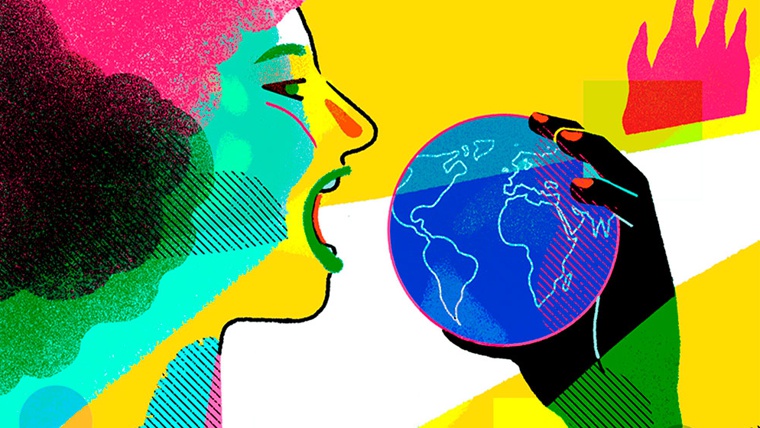 Comics. An exhibition of young avant-garde comic strip authors.
Bàrbara Alca, Marta Cartu, Genie Espinosa, Ana Galvañ, Nadia Hafid, Conxita Herrero, María Medem, Miriampersand and Roberta Vázquez constitute the constellation of the creative universes in this exhibition.
Constel·lació gràfica presents comic strips whose authors experiment with a diversity of languages, aesthetics and cultural references, questioning traditional comic strip styles through the use of colour, graphics, and narrative.
With humour and a critical eye, these authors deal with issues that affect millennials such as economic and job insecurity, the disappearance of stability, the relationship with technology, sisterhood and relationships on the Internet.
The exhibition also invites you to discover how a network of self-publishing fairs, small publishing houses and printers have made the consolidation of an alternative scene possible - the one in which these nine artists have developed and continue to grow. And it also shows how comic strips can transcend paper, coming to life in other art media such as ceramics, tapestries and animations.
Schedule
Days
Hours
Preus

Dimarts, dimecres, dijous, divendres, dissabte i diumenge i festius

d'11:00 h a 20:00 h

Entrada general: 6 €

(entrada a 1 €xposició)




Entrada 2 €xposicions: 8 €




Entrada reduïda:

- 4 € (1 €xposició)

- 6 € (2 €xposicions)

. Carnet Jove

. Carnet de Biblioteques

. Famílies nombroses i monoparentals

. Grups (mínim de 15 persones)

. Jubilats

. Menors de 25 anys




Entrada gratuïta:

. Diumenges de 15.00 a 20.00 (cal reserva prèvia)

. Aturats

. Carnet de docent

. Amics del CCCB

. Jubilats amb Targeta Rosa

. Membres de l'ICOM

. Menors de 12 anys

. Periodistes acreditats

. Carnet de Discapacitat

. 12 i 13 de febrer (S Eulàlia)



Bàrbara Alca, Marta Cartu, Genie Espinosa, Ana Galvañ, Nadia Hafid, Conxita Herrero, María Medem, Miriampersand i Roberta Vázquez conformen la constel·lació d'universos creatius d'aquesta exposició. Són nou autores que experimenten amb estils i llenguatges, que trenquen els esquemes del còmic i que comparteixen una mirada crítica i carregada d'humor envers el món.
«Constel·lació gràfica» presenta les historietes i la diversitat de llenguatges, de registres estètics i de referents culturals d'aquestes nou creadores que, a través de l'ús del color, el grafisme o l'experimentació estilística i narrativa, han posat en qüestió formes canòniques del còmic.
En la seva obra, aquestes autores tracten, amb mirada crítica i humor, temes de la realitat millennial com la precarietat econòmica i laboral, la desaparició de l'estabilitat, la relació amb la tecnologia, la sororitat o les relacions a Internet.
L'exposició convida, també, a conèixer com una xarxa de fires d'autoedició, petites editorials i impremtes han fet possible la consolidació d'una escena alternativa en què es mouen i formen aquestes nou artistes. I posa de manifest com el còmic pot traspassar el paper i tenir vida en altres suports artístics com la ceràmica, els tapissos i les animacions.
El còmic fora del còmic: instal·lacions creades per les autores
«Constel·lació gràfica» aposta per exposar el còmic d'una manera innovadora i poc convencional, en la qual les historietes i els personatges dels llibres envaeixen l'espai expositiu en nou instal·lacions que les artistes han imaginat expressament per a l'ocasió.
Durant el recorregut, podreu submergir-vos en els seus imaginaris a través d'aquests nou espais, «fer match» amb els monstres de l'aplicació de cites Cringer de Bàrbara Alca, jugar amb els personatges de còmic de Roberta Vázquez o travessar una porta dimensional ideada per Miriampersand.
Address:

C Montalegre, 5

:

Ciutat Vella

Neighborhood:

el Raval

City:

Barcelona
When

From 02/12/2022 to 18/06/2023
Website
Web:
E-mail
E-mail:

info@cccb.org
You may also be interested in...