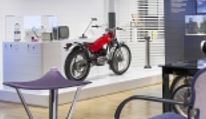 Reobertura el 2 de juny.
Schedule
Days
Hours
Preus

De dimarts a divendres

de 15:00 h a 20:00 h

Entrada general de: 6 €

Entrada reduïda: 4 €

Entrada gratuïta:
· Diumenge a la tarda, de 15 a 20 h
· Cada primer diumenge de mes
· 12 de febrer (Santa Eulàlia)
· 24 de setembre (Mare de Déu de la Mercè
· Menors de 16 anys
· Posseïdors de la Targeta Rosa gratuïta
· Membres de l'ICOM (International Council of Museums)
· Membres de l'Associació de Museòlegs de Catalunya
· Guies turístics professionals
· Professors d'ensenyament reglat acreditats per la direcció del centre educatiu Professors d'ensenyament reglat quan acompanyin un grup d'estudiants
· Persones que disposin del passi metropolità d'acompanyant de persones amb discapacitat
· Periodistes degudament acreditats
· Posseïdors de la targeta Barcelona Card
· Persones inscrites al Gaudir Més

dissabtes i diumenges

de 10:00 h a 14:00 h i
de 15:00 h a 20:00 h
Others
Occur on:

Tickets sold at:
En gairebé tot el que fem al llarg del dia utilitzem un o més objectes. Si volem seure utilitzem una cadira, per fer la bugada una rentadora, per veure´ns-hi encenem un llum..., objectes de múltiples dissenys i funcions que ens han acompanyat al llarg de la vida i que ens mostren que a mesura que el món canvia també ho fan els objectes.
Com és, doncs, que uns determinats objectes i no d´altres passen a formar part de la col·lecció del Museu? Cadascuna de les peces exposades són considerades una mostra representativa del disseny del seu temps, de les diverses aportacions materials i tècniques proposades pels seus autors, així com del seu ressò sociocultural.
El disseny de producte és un dels nostres grans patrimonis culturals. Perquè quan posem la mirada en Barcelona o en Catalunya, ara o d´aquí a uns anys, només podrem entendre com vam viure si coneixem aquells objectes que vam tenir al nostre costat, alguns d´ells avui patrimoni del Museu.
Address:

Plaça de les Glòries Catalanes, 37*38

:

Sant Martí

Neighborhood:

el Parc i la Llacuna del Poblenou

City:

Barcelona
When

Permanent event
Website
E-mail
E-mail:

museudeldisseny@bcn.cat
Social networks
Facebook:

Twitter:
You may also be interested in...