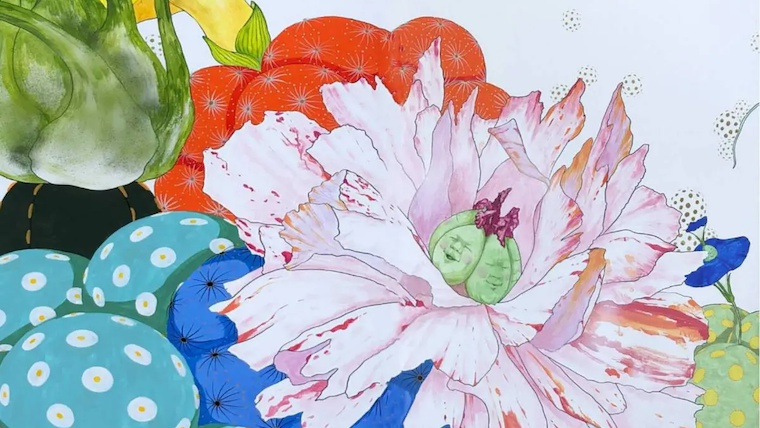 Floral Representation. A showcase of contemporary Spanish, Latin American, and Asian artists who share the floral theme as a common link.
Casa Àsia and Casa Vicens present After the fog, the first flowers. Orient and Orientalisms, from Modernism to Modernity, an exhibition that brings together, for the first time in Barcelona, 24 contemporary artists who share a common link, the floral theme, although each creates their own creative discourse using different formats and mediums, such as drawing, painting, photography, video, and installation. This exhibition project relates the orientalism of modernism with the globalisation of art today.
The temporary exhibition is included in the price of admission to Casa Vicens.
Schedule
Days
Hours
Preus

Cada dia

de 10.00 h a 20.00 h

Entrada general: 18 €




Entrada reduïda: 16 €

. Estudiant de 12 a 25 anys

. Membres família nombrosa o monoparental

. Gent gran (+ 65 anys

. Persones amb discapacitat (un acompanyant gratuït)




Entrada gratuïta:

. Nens fins a 11 anys

. membres de l'ICOM

. Club Super3

. Nit Europea dels Museus

. Dia Internacional dels Museus

. 22 de maig (Santa Rita)




Els preus a la taquilla tenen un increment de 2,5 € per persona
Casa Àsia i Casa Vicens presenten el projecte expositiu "Després de la boira, primeres flors. Orient i els orientalismes, del modernisme a la modernitat". Aquesta exposició reuneix ,per primera vegada a Barcelona, obra de 24 artistes espanyols, llatinoamericans i asiàtics contemporanis que aporten la creació personal en la interpretació de la representació floral.
La temàtica floral és el nexe que uneix les obres de tots els artistes que participen en aquest projecte amb diferents suports: el dibuix, la pintura, la fotografia, el vídeo i la instal·lació. Un projecte expositiu que posa en relació l'orientalisme del modernisme i la mundialització de l'art a dia d'avui.
Dels 24 artistes que participen a la mostra 11 són espanyols: Antoni Muntadas (instal·lació),Javier Garcerá (pintura), Pablo Marchante (pintura), Teresa Esteban (pintura), Joan Fontcuberta (fotografia), Nicolás Combarro (fotografia), Linarejos Moreno (fotografia), Paula Anta (fotografia), Manuel V. Alonso (dibuix), Marina Nuñez (vídeo), i Marisa González (vídeo-instal·lació). La nord-americana Ana Nance (fotografia) i el francès Jean Marie del Moral (fotografia) tenen nacionalitat espanyola.
9 són asiàtics: els japonesos Mari Ito (instal·lació pictòrica), Takashi Murakami (pintura), Yasumasa Morimura (fotografia), Nobuyoshi Araki (fotografia) i Azuma Makoto (vídeo). Els coreans Han Sungpil (vídeo) i Lee Lee Nam (vídeo), la xinesa Luo Min (pintura) i la filipina Wawi Navarroza (fotografia). Completen l'exposició 2 artistes llatinoamericans: el colombià Alberto Baraya (instal·lació) i la peruana Cecilia Paredes (fotografia).
La comissària de l'exposició, Menene Gras Balaguer, defineix el projecte expositiu com "una posada en comú de la representació de formes florals afí a totes les produccions contemporànies que s'han agrupat, suscitant un interès particular per la vigència de la representació floral a l'art contemporani; i, de l'altra, partint de la temàtica floral que comparteixen aquests artistes, plantejar les connexions que es poden perfilar entre els treballs que es mostren, la història que els precedeix i els vincles que acrediten el seu interès, en tant que manifestacions posades en valor per la historiografia artística i la crítica contemporània".
Address:

C Carolines, 18*24

:

Gràcia

Neighborhood:

la Vila de Gràcia

City:

Barcelona
Where
When

From 26/04/2023 to 07/01/2024
Website
Web:

Web venda d'entrades:
You may also be interested in...