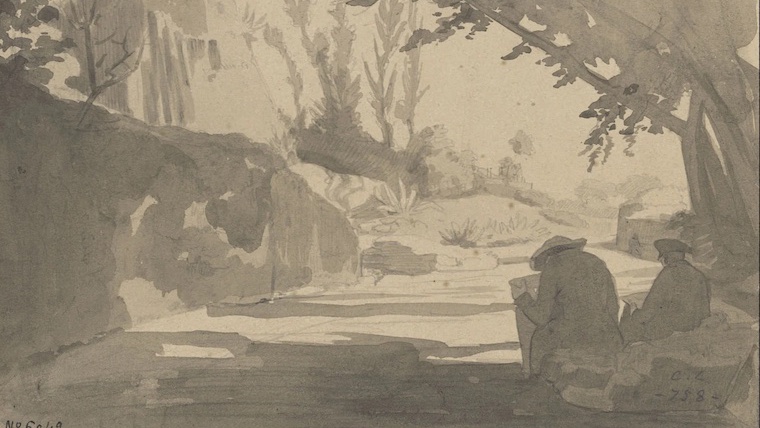 Exhibitions. A reflection on the relationship between artists and nature.
In parallel to the exhibition at the MNAC on William Turner, 'The heartbeat of nature' presents a selection of works from the collection showing the fascination with nature among 19th century artists.
The display features some 80 works, mainly drawings, complemented by a group of paintings and album materials from the artists. The exhibition brings together a highly representative set of works, in some cases previously unpublished, featuring work by artists such as Baldomer Galofre, Marià Fortuny, Ramon Martí i Alsina, Lluís Rigalt, Antoni Fabrés and Jaume Morera.
The exhibition also helps us get a better idea of the importance that nature had in Catalan art, basically over the course of the 19th century, a time when this artistic subject began to take offt, proof of the irradiation of a contemporary sensibility that spread everywhere and crystallised in the emergence of the Romantic movement.
Schedule
Days
Hours
Preus
Observation

De dimarts a dissabtes

de 10:00 h a 18:00 h

Entrada general de: 6 a 12 €

Entrada general: 12 €

(Permet l'accés a l'edifici, visitar la col·lecció permanent, les exposicions temporals i les terrasses-miradors)




Entrada exposició William Turner + El Batec de la Natura: 6 €




Gratuït:

Menors de 16 anys
Membres de l'ICOM
Grups d'estudiants d'arquitectura i d'història de l'art amb reserva prèvia
Dissabtes a partir de les 15 h
Dies de portes obertes

Exposició inclosa en l'entrada a Turner o amb l'entrada general    

Diumenge i festius

de 10:00 h a 15:00 h
Others
Occur on:

Associated activities:
Selecció d'unes 80 obres, fonamentalment dibuixos, que es complementen amb u n grup de pintures i material d'àlbums d'artistes, que mostren la fascinació que els artistes que van treballar durant el segle XIX van sentir per la natura. És un conjunt molt representatiu de l'activitat desplegada per artistes, com ara Baldomer Galofre, Marià Fortuny, Ramon Martí i Alsina, Lluís Rigalt, Antoni Fabrés o Jaume Morera, entre d'altres, i del seu interès per representar un entorn natural pel qual es van sentir fortament atrets i fascinats.
La mostra ens parla de la importància que va tenir la natura en l'art català, fonamentalment al llarg del segle XIX, en un context en què a tot Europa es va produir una eclosió de l'interès per aquest motiu artístic, com una prova de la irradiació d'una sensibilitat coetània que es va estendre arreu i va cristal·litzar en l'aparició del moviment romàntic.
El Gabinet de Dibuixos i Gravats conserva un conjunt molt important d'obres que palesen el reflex d'aquesta sensibilitat, un fons molt desconegut i fins i tot, en alguns casos, inèdit.
En uns moments en què els temes mediambientals ens preocupen, aquesta exposició i la dedicada a William Turner, que es pot veure simultàniament, hi posen el focus.
Address:

C Mirador Palau Nacional, 6*10

:

Sants-Montjuïc

Neighborhood:

el Poble-sec

City:

Barcelona
When

From 20/05/2022 to 11/09/2022
Website
You may also be interested in...