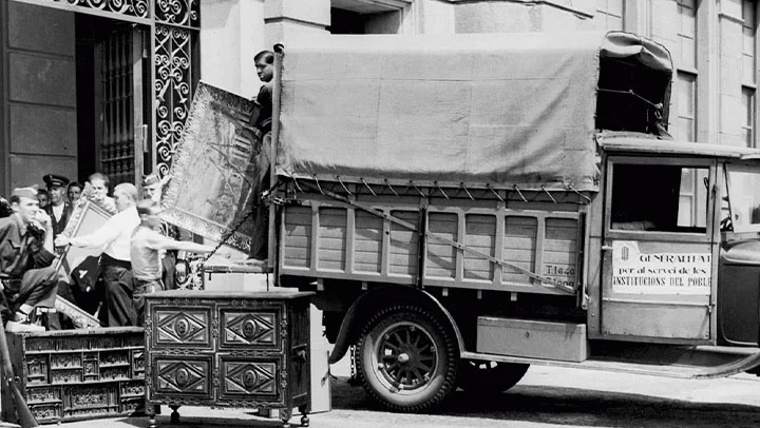 Exhibitions. The exhibition pays homage to the key institutions and figures in the tasks of protecting Catalan artistic heritage during the war.
Following the outbreak of the Spanish Civil War, the country's art had to be protected from the unprecedented explosion of violence caused by the fascist uprising. Thanks to the creation in 1934 of various policies for safeguarding and ordering the country's cultural heritage - such as the opening of large museums in Catalonia - the response in the summer of '36 was immediate.
Almost ninety years later, through the exhibition entitled El Museu en perill! Salvaguarda i endreça de l'art català durant la guerra civil, the MACBA is resuming the task of protecting numerous works, which had also been identified, classed and restored. It features photographs, digitised maps, primary documents, catalogues and books, among other things, in chronological order with the creation of the museum as the starting point.
The exhibition focuses on Joaquim Folch i Torres, a vital figure for understanding the territory's entire museum and heritage system. Later on, the prime mover and first director of the MACBA was forced aside by the Franco dictatorship.
Schedule
Period
Days
Hours
Preus
Observation

Del 15 juliol al 30 setembre

Dimarts, dimecres, dijous, divendres i dissabte

de 10.00 h a 20.00 h

Entrada general: 2 €

Entrada bàsica a l'exposició temporal




Entrada general de: 12 €

Museu + exp. permanents + exp. temporal




Tarifes reduïdes 4.2 €:

- Estudiants

- Grups d'estudiants o escolars sense reserva prèvia acompanyats per mestres o professors

- Famílies (2 adults + 1 menor)

- Carnet família nombrosa

- Grups d'adults




Abonament anual MNAC: 18 €




Articket: 35 €




Entrada gratuïta:

- Menors de 16 anys

- Majors de 65 anys

- Persones a l'atur acreditades

- Dissabtes (a partir de les 15 h)

- Professors acreditats

- Grups d'estudiants o escolars amb reserva prèvia acompanyats per mestres o professors

- Membres de l'ICOM

- Primer diumenge de mes




Servei d'audioguies: 4 €

L'entrada és vàlida per a dos dies durant un mes a partir de la data de compra

Les visites de grups cal concertar-les per telèfon

Diumenge i festius

de 10:00 h a 15:00 h

De l'1 octubre al 27 febrer

De dimarts a dissabtes

de 10:00 h a 18:00 h

diumenges i festius

de 10:00 h a 15:00 h
Others
Occur on:

Organised by:
Aquesta exposició vol mostrar la tasca de salvaguarda i endreça que la Generalitat de Catalunya va emprendre, de forma urgent, l'estiu de 1936, quan la sublevació feixista va provocar una explosió de violència revolucionària sense precedents que va afectar el patrimoni artístic i arquitectònic del país. La mostra vol també ser un reconeixement del rol fonamental que van tenir en aquesta protecció del patrimoni alguns personatges com Joan Subias, Joan Bardolet o Miquel Joseph i Mayol i, especialment, Joaquim Folch I Torres, una figura imprescindible per a comprendre tot el sistema museístic i patrimonial català, que fou impulsor decisiu i primer director del Museu d'Art de Catalunya i que patí la depuració i repressió posterior a la guerra.
Les urgències de l'estiu de 1936 van poder ser gestionades gràcies al fet que, des del 1934, el govern català havia posat en marxa unes polítiques de salvaguarda i ordenació del patrimoni cultural com no n'hi havia hagut mai abans, amb la creació dels grans museus del país (el Museu d'Art de Catalunya i el Museu d'Arqueologia de Catalunya) i una política cultural ben definida.
L'exposició se centra en els anys 1936-1939, però s'inicia amb el desplegament d'aquestes primeres tasques d'intervenció i ordenació. A partir de l'estiu de 1936, es va realitzar una intervenció intensiva sobre el patrimoni de tot el territori català (i de la franja, amb el salvament de peces artístiques a Roda de Isábena o Sixena, per exemple), que implicava diverses accions gairebé simultànies: salvar i salvaguardar, concentrar en dipòsits i museus, classificar, ordenar, restaurar, identificar, etc., fins arribar a desenvolupar propostes expositives i museístiques que anaven més enllà de les necessitats de la propaganda republicana i catalanista. L'exemple més clar fou l'Exposició d'Art Medieval català a París.
Aquest espai monogràfic mostrarà com, molt més enllà d'una operació propagandística, l'exposició de 1937 al Jeu de Paume, va ser una actuació memorable al voltant d'una proposta expositiva que implicava ordenar i interpretar l'art medieval, la restauració de peces, i la mostra d'un patrimoni singular.
Aquesta mostra va suposar un punt d'inflexió en la projecció internacional de la col·lecció medieval del museu i en la mirada sobre les obres que la conformen.
Controlada la situació i amb les polítiques patrimonials de salvaguarda i endreça en marxa, el pas següent va ser preservar el patrimoni de l'agressió franquista i dels bombardeigs de l'aviació feixista italo-espanyola. D'aquí la necessitat d'evacuar per raons de seguretat els grans museus de Barcelona i alguns dels dipòsits i concentracions d'altres llocs del territori. La salvaguarda, doncs, va ser pensada i posada en pràctica perquè el feixisme espanyol, amb el suport de la Itàlia mussoliniana i l'Alemanya nazi, havia llançat una agressió militar que obria les portes a tota mena de violències, primer la revolucionària i anticlerical; després, els bombardeigs sobre poblacions civils i objectius no militars per part dels feixistes.
Museu en perill! combinarà diferents elements expositius: obres originals, documentació primària, llistats, expedients de depuració, catàlegs i volums bibliogràfics, fotografies, materials d'hemeroteca, filmacions, cartografia, cartells, etc.
Destaca la potència visual de les fotografies que es conserven d'aquells trasllats i moviments, un veritable tresor que permet veure en quines condicions van haver de treballar els responsables i tècnics per poder salvaguardar i endreçar el patrimoni artístic de Catalunya. Tot aquest material permetrà a l'espectador conèixer un sorprenent episodi històric.
Address:

C Mirador Palau Nacional, 6*10

:

Sants-Montjuïc

Neighborhood:

el Poble-sec

City:

Barcelona
When

From 15/07/2021 to 27/02/2022
Website
E-mail
E-mail:

info@museunacional.cat
You may also be interested in...