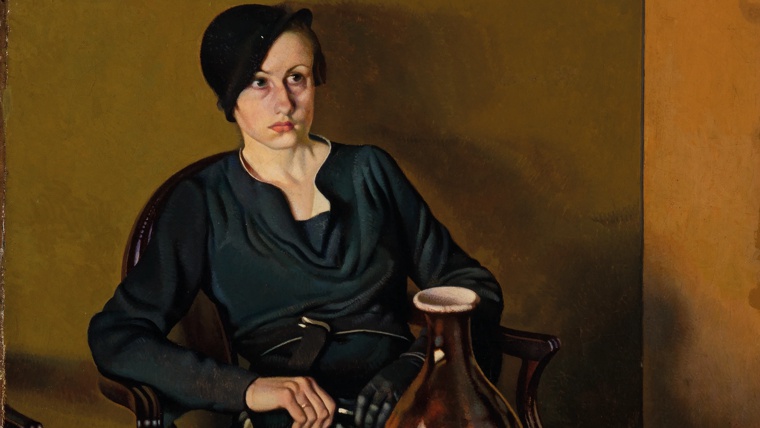 Modern art. The exhibition showcases Elias's creative activity as a painter, caricaturist, historian and art critic.
Feliu Elias (Barcelona, 1878-1948) was a multifaceted personality in whom Elias the painter, Apa the caricaturist, Joan Sacs the art historian and critic, and even the "Dimoni Verd" [Green Demon] - another of the aliases he used when writing articles on the craft and techniques involved in painting - all coexisted.
The exhibition presents a synthesis of his creative output, with a particular focus on the miniaturist brushstroke painting that within a framework of magical realism exalted both his family surroundings - a humble light bulb, a fried egg, an Elizabethan chair or a pestle and mortar - as well as his daughters and his artistic passions, for example for Dutch painting, Alfred Sisley and Chinese ceramics.
His painting did not greatly evolve in terms of technique, which remained impassively faithful to specific themes throughout his life, and reflects his predilection for material culture.
Schedule
| | Days | Hours | Preus | |
| --- | --- | --- | --- | --- |
| | De dimarts a dissabtes | de 10:00 h a 18:00 h | Entrada general: 6 € | |
| | Diumenge i festius excepte Nadal i Any Nou | de 10:00 h a 15:00 h | | |
Aquesta exposició posarà el focus en un dels protagonistes de la col·lecció d'art modern del museu per estirar tots els fils possibles de la seva personalitat contradictòria i dogmàtica, a la llum de la informació inèdita apareguda en diferents arxius i de la contextualització de la seva obra en l'àmbit de l'art europeu d'entreguerres.
Feliu Elias (Barcelona, 1878-1948) és una personalitat polièdrica en la qual conviuen l'Elias pintor, el caricaturista Apa, l'historiador i crític d'art Joan Sacs i, fins i tot, el "Dimoni Verd", un altre dels seus àlies quan signa articles sobre tècnica i oficis de la pintura.L'exposició presentarà una síntesi de la seva activitat creativa, centrant-se molt especialment en la seva pintura de pinzellada miniaturista que dins un realisme màgic exalta per igual el seu àmbit familiar -una humil bombeta, un ou ferrat, una toile de Jouy, una cadira isabelina o un morter- que les seves filles o passions artístiques, com ara la pintura holandesa, Alfred Sisley o la ceràmica xinesa. Es tracta d'una pintura que no està subjecta a grans evolucions tècniques, que es manté impassible i fidel a unes temàtiques concretes al llarg de tot el seu itinerari vital, i que irradia la seva predilecció per la cultura material.
L'exposició mostrarà l'itinerari vital en relació amb els viatges artístics i els exilis de l'artista. Reunirà, també, alguns dels objectes que formaven part de la col·lecció d'Elias (vidres, ceràmiques, objectes orientals...) copsats pels seus pinzells i que es presentaran en diàleg a través d'una seqüència vertebrada en seccions temàtiques com ara natures mortes, interiors i retrats.
Finalment, s'exploraran les "col·lisions" entre el crític Joan Sacs i l'avantguarda, sense oblidar les filiacions de la seva obra amb altres realismes catalans i de diferents geografies i tradicions. De fet, la seva obra connecta de manera extraordinària amb l'estat d'esperit de l'Europa d'entreguerres.Un altre eix de la mostra són els vincles de Feliu Elias amb Sabadell, d'on era oriünda la família. Dos dels germans de Feliu Elias, Lluís i Francesc, es van dedicar a diferents facetes artístiques: el primer, comediògraf i dibuixant conegut com Anem; el segon, ceramista. El 1965, Lluís Elias va llegar al Museu d'Art de Sabadell la seva col·lecció d'art i els seus objectes, i a la Fundació Bosch i Cardellach el seu arxiu. Així doncs, el Museu d'Art de Sabadell, en paral·lel a l'exposició al Museu Nacional, incidirà en els germans Elias i en el diàleg obert de l'Apa amb creadors vinculats a Sabadell.
Comissàries: Mariàngels Fondevila i Mariona Seguranyes.
Address:

C Mirador Palau Nacional, 6*10

:

Sants-Montjuïc

Neighborhood:

el Poble-sec

City:

Barcelona
When

From 30/11/2022 to 10/04/2023
Website
E-mail
E-mail:

info@museunacional.cat
You may also be interested in...