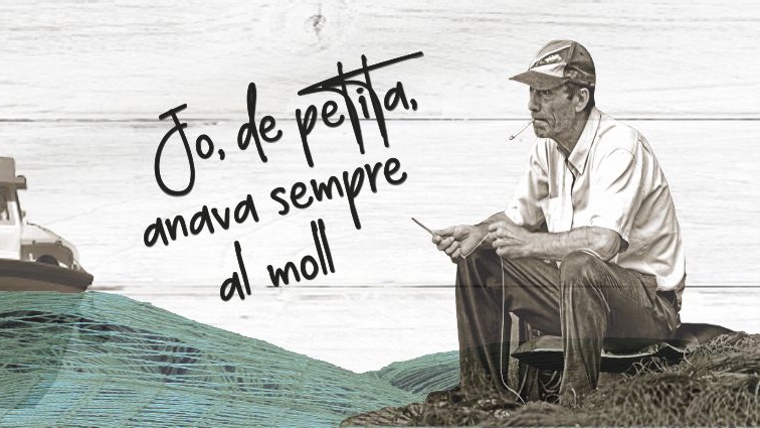 Al vestíbul
Schedule
| | Days | Hours | Preus | |
| --- | --- | --- | --- | --- |
| | Tots el dies | de 10.00 h a 20.00 h | Entrada Gratuïta | |
"Jo, de petita, anava sempre al moll", repeteixen les dones que integren la comunitat pescadora de la Barceloneta. De petites i de grans. Les dones, els homes i tothom que en forma part tenen la necessitat de passar pel moll quasi cada dia. L'acció quotidiana de passar pel moll els fa ser -pertànyer- i, al mateix temps, estar -habitar el territori.
Jo, de petita, anava sempre al moll és una exposició que reflexiona sobre la sostenibilitat i la pesca en un territori concret, la Barceloneta. L'exposició s'apropa a la comunitat pescadora de la Barceloneta per entendre els oficis i el present de la pesca.
A través dels testimonis d'aquesta comunitat, emergeixen dos discursos: el del dol i la pèrdua de la pesca, i el de la necessitat de canvi i transformació de l'ofici. De fet, són les dones de la comunitat pescadora les que plantegen la urgència de la transformació dels oficis de la pesca. Només així, diuen, albiren un futur. Buscant respostes a com reinventar l'ofici, l'exposció surt del territori de la ciutat per mostrar com joves, homes i dones, de la mar Mediterrània estan reinventant l'ofici per fer-lo més sostenible. Aquesta sostenibilitat, però, interpel·la també el públic: quin paper té la ciutadania en un consum de peix sostenible?, què perd una ciutat quan no cuida la comunitat pescadora?
El títol de la mostra, Jo, de petita, anava sempre al moll és una radiografia del món passat, de com les dones eren apartades de la mar. I és una crida a repensar com ens relacionam amb la mar i amb la pesca en un món en transformació.
Address:

Avinguda de les Drassanes, 1

:

Ciutat Vella

Neighborhood:

el Raval

City:

Barcelona
When

From 05/03/2022 to 01/09/2022
Website
Web:
E-mail
E-mail:

informacio@mmb.cat
You may also be interested in...