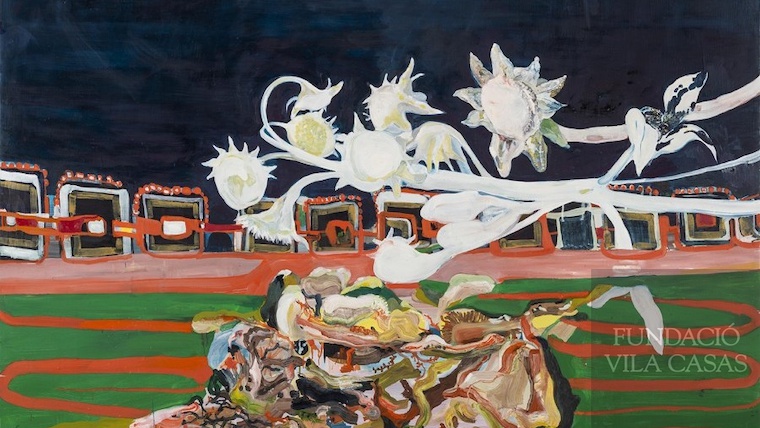 Painting. This is the first retrospective devoted to the work of Moix, an artist who has lived in New York since 1986.
Santi Moix - La costa dels mosquits. Una antològica (1998-2022) includes more than eighty pieces, including paintings, watercolours, ceramics, sculptures and ephemeral interventions on walls.
Santi Moix's painting is halfway between the figurative and the abstract. His language appears to be expressionist, but beyond reflecting specific emotional states, it becomes a tool for creating an imaginary mythical-poetical parallel world, full of abstract forms that seem to be caught up in a constant process of transformation and combined with easily recognisable images such as insects, animals, eyes, wheels and bridges.
All this is rendered in exuberant colours, with humour and hedonism also playing a predominant role.
Schedule
Days
Hours
Preus

Dimarts, dimecres, dijous, divendres i dissabte excepte 6 abril i 23 juny

d'11.00 h a 14.00 h i
de 16.30 h a 20.00 h

Entrada general: 8 €

Entrada reduïda: 4 €

23 juny

d'11.00 h a 18.00 h

Diumenge i
6 abril

d'11.00 h a 14.00 h
Aquesta exposició és una visió retrospectiva de l'obra de les dues últimes dècades de Santi Moix (Barcelona, 1960), un artista català que viu a Nova York des del 1986. La mostra, concebuda per als Espais Volart de la Fundació Vila Casas, inclou més de vuitanta obres, creades des de l'any 1998 -quan l'artista rep la Beca Guggenheim i comença a treballar amb el galerista Paul Kasmin- fins avui dia. L'exposició aplega pintures, aquarel·les, dibuixos, ceràmiques i porcellanes, escultures de cautxú i espectaculars intervencions efímeres a les parets de les sales, realitzades especialment per a aquesta ocasió. Moix és un artista singular a casa nostra per haver viscut tants anys als EUA, on ha desenvolupat la seva obra, tot i que ha treballat a més a més al Marroc, l'Índia i el Japó. Actualment, compta també amb un estudi a Barcelona.
La pintura de Santi Moix se situa a mig camí entre la representació i l'abstracció. El seu llenguatge té una aparença expressionista però, més enllà de reflectir estats emocionals concrets, esdevé una eina per crear un món imaginari mític-poètic paral·lel, ple de formes abstractes que semblen estar en constant transformació i que es barregen amb imatges fàcilment reconeixibles, com ara insectes, animals, ulls, rodes o ponts, entre d'altres. Tot això està plasmat amb colors exuberants, on l'humor i l'hedonisme també hi juguen un paper preponderant. A més, Moix ha il·lustrat llibres d'autor humorístics, entre els quals hi ha Miguel de Cervantes, Rabelais o Mark Twain.
Exposició comissariada per Enrique Juncosa.
Address:

Carrer d'Ausiàs Marc, 22

:

Eixample

Neighborhood:

la Dreta de l'Eixample

City:

Barcelona
When

From 21/02/2023 to 16/07/2023
Website
You may also be interested in...