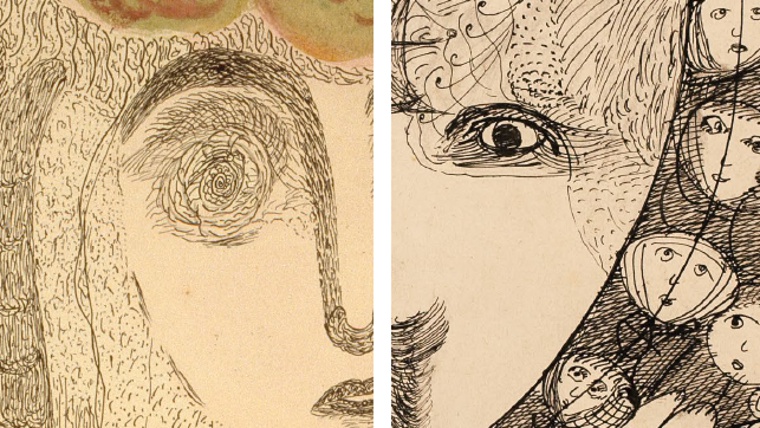 Ubicació: Sala 64
Psychic drawing. Two unique artists linked to esoteric knowledge and creation guided by automatism.
The extraordinary legacies of Josefa Tolrà and Madge Gill, practically unpublished, were generated by overflowing academic art and in the development of psychic drawing, automatic writing and textile work of singular beauty.
With no artistic or literary training, both of them drew subtle worlds populated by astral presences, writing about the planets, reflecting on scientific and moral issues and sending out pacifist messages.
Their works currently feature in lectures and exhibition rooms at museums such as the Museo del Prado, the MACBA, the George Pompidou and the Albertina.
Schedule
Period
Days
Hours
Preus
Observation

Del 6 juliol al 30 setembre

De dimarts a dissabtes

de 10:00 h a 20:00 h

Entrada general: 12 €




Combinada: 20 € (MNAC + Poble Espanyol)




Tarifes reduïdes 8.4 €:

- Estudiants

- Grups d'estudiants o escolars sense reserva prèvia acompanyats per mestres o professors

- Famílies (2 adults + 1 menor)

- Carnet família nombrosa

- Grups d'adults




Bus Turístic i Barcelona City Tour, 20% de descompte

Joves amb el Carnet Jove, 50% de descompte




Abonament anual MNAC: 18 €




Articket: 38 €




Entrada gratuïta:

- Menors de 16 anys

- Majors de 65 anys

- Persones a l'atur acreditades

- Dissabtes (a partir de les 15 h)

- Professors acreditats

- Grups d'estudiants o escolars amb reserva prèvia acompanyats per mestres o professors

- Membres de l'ICOM

- Primer diumenge de mes

- 11 de setembre (Diada Nacional)

- 24 de setembre (la Mercè)




Entrada bàsica: 2 €

Permet l'accés a l'edifici, les terrasses-mirador i realitzar la visita autoguiada pels espais de l'edifici

L'entrada és vàlida per a dos dies durant un mes a partir de la data de compra

Les visites de grups cal concertar-les per telèfon

Diumenge i festius

de 10:00 h a 15:00 h

De l'1 octubre al 5 novembre

Dimarts, dimecres, dijous, divendres i dissabte

de 10:00 h a 18:00 h

Diumenge i festius

de 10:00 h a 15:00 h
Aquesta exposició presentarà i analitzarà la singular creativitat de dues dones, la catalana Josefa Tolrà (1880-1959) i la britànica Madge Gill (1882-1961). Artistes de vasta producció que mai van pensar en ser reconegudes amb aquesta condició, les dues molt vinculades als sabers esotèrics i la metodologia de l'acte creador guiat per l'automatisme de l'estat alterat de la consciència: "la mà guiada".
Els seus llegats extraordinaris, pràcticament inèdits, es van generar desbordant l'art acadèmic i en el desenvolupament del dibuix psíquic, l'escriptura automàtica i l'obra tèxtil de bellesa singular. Les seves creacions ens permeten avui analitzar des d'altres perspectives l'art de la primera meitat del segle XX a Europa i amb això reconèixer-nos en nous relats estètics i ètics de la cultura moderna: noves espiritualitats laiques (espiritisme, teosofia, antroposofia), altres paradigmes de l'art (dissolució de l'autoria, procés col·laboratiu de creació), la recuperació de tècniques de l'art de les dones (dibuix, brodats, dietaris), la funció sanadora de l'art (obra no comercial ni d'espectacle), els sabers esotèrics (tarot, astrologia, pèndul, imposició de mans, profecies) i la potència i l'experiència d'una mística instintiva i alliberadora que és una vivència de transcendència per a les classes humils.
Aquestes artistes formen part d'una genealogia de l'art de dones que lluny de l'avantguarda estètica europea formen una "rereguarda" mística que des de l'espai domèstic omple l'exili interior d'una intensa experiència psíquica i una poderosa creativitat. Sense formació artística ni literària, ambdues dibuixen mons subtils poblats de presències astrals, escriuen sobre els planetes, reflexionen sobre qüestions científiques i morals i emeten missatges pacifistes. Actualment les seves obres abandonen la marginalitat patrimonial per ocupar espai i lectures en importants museus d'art modern i contemporani com el Museo del Prado, el Macba, el George Pompidou o l'Albertina.
Address:

C Mirador Palau Nacional, 6*10

:

Sants-Montjuïc

Neighborhood:

el Poble-sec

City:

Barcelona
When

From 06/07/2023 to 05/11/2023
Website
E-mail
E-mail:

info@museunacional.cat
You may also be interested in...