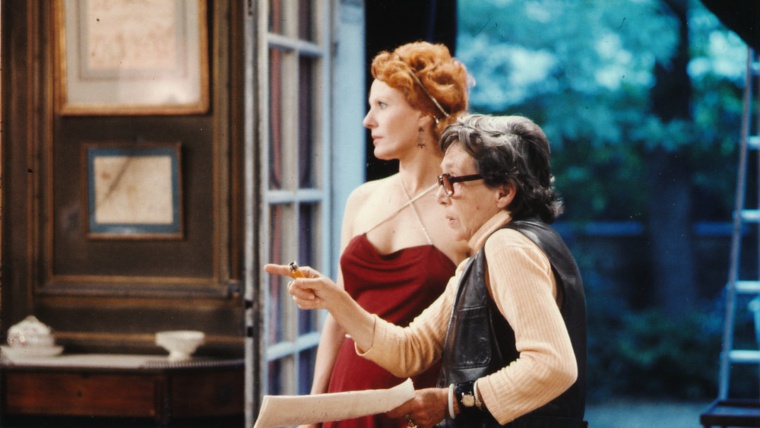 Schedule
| | Days | Hours | Preus | Observation |
| --- | --- | --- | --- | --- |
| | Dimarts, dimecres, dijous, divendres, dissabte, diumenge i festius excepte 1 maig | d'11.00 h a 20.00 h | Entrada Gratuïta | |
Others
Occur on:

With the collaboration:
Marguerite Duras (Gia Định, 1914 - París, 1996) és una de les escriptores i cineastes europees més influents de la segona meitat del segle XX. Amb cinquanta-sis llibres —entre novel·les, reculls periodístics i obres de teatre—, dinou pel·lícules i una desena de guions cinematogràfics, així com una vasta producció en el camp televisiu, escassament coneguda, Duras manté el seu estatus d'autora de culte, si bé al mateix temps, sobretot a França, continua sent una veritable icona popular.
Articulada al voltant de nou eixos temàtics, la mostra afegeix a cadascun dels temes films que reten compte de l'experimentació audiovisual que Marguerite Duras va portar a terme, les seves maneres d'afegir nous lligams semàntics entre imatge i text.
El primer investiga com l'escriptora retrata la vida dels colons francesos a la frontera sud del Vietnam entre 1914 i 1933, l'experiència d'una adolescent blanca i privilegiada en uns territoris, els colonials, on impera la corrupció i el règim d'esclavitud al qual se sotmet la ciutadania autòctona. Aquest apartat inclou el curtmetratge En rachâchant (1982) de Danièle Huillet i Jean-Marie Straub, a partir del conte infantil de Duras Ah! Ernesto (1971).
El segon s'ocupa del període entre 1942 i 1961 i explora les vicissituds polítiques del «grup de la rue Saint-Benoît», el trauma de la Segona Guerra Mundial i la seva expulsió del Partit Comunista Francès per «nimfòmana, arrogant i de moral lleugera». Així mateix, tracta quin paper va ocupar en la dissidència antigaullista de finals dels cinquanta.
El tercer, de 1968 a 1977, aplega les contribucions de Duras al moviment estudiantil del seixanta-vuit i al feminisme francès dels setanta. S'hi mostra el curt Césarée (1979).
El quart eix compila les seves entrevistes per al magazine televisiu Dim Dam Dom, fetes entre 1965 i 1967.
El cinquè es dedica, íntegrament, al cinema de Marguerite Duras i s'hi presenten cinc films de gran importància: Détruire, dit-elle (1969), Le Camion (1977), Aurélia Steiner (Vancouver) (1979), Agatha et les lectures illimitées (1981) i Les Enfants (1984). També s'hi recull la seva pràctica com a guionista a Hiroshima mon amour (1959) d'Alain Resnais i el cèlebre número de Cahiers du Cinéma (1980) que, a instàncies de Serge Daney, va escriure i compaginar com una mena de carta blanca per abocar-hi la seva sensibilitat fílmica i literària.
El sisè gira al voltant d'una de les tres entrevistes que va mantenir amb Jean-Luc Godard, en concret una de 1987 per al programa televisiu Océaniques. A més, s'hi recull una entrevista a l'escriptora feta per Eugeni Bonet i Juan Bufill el 29 de gener de 1977, després de la presentació d' India Song a la Filmoteca de Barcelona. Per acabar, s'hi recupera el debat entre Chantal Akerman, Delphine Seyrig, Liliane de Kermadec i Marguerite Duras titulat 1975: C'est quoi, un cinéma au féminin ?.
La setena secció, que té l'escriptura durasiana com a element vertebrador, compta amb dos llibres tan importants i oposats com La Vie matérielle (La vida material, 1987) i Écrire (Escriure, 1993), a més de les pel·lícules Les Mains négatives (1979) i Aurélia Steiner (Melbourne) (1979) i l'entrevista Marguerite Duras. Écrire, obra de Benoît Jacquot.
El teatre i la pràctica periodística configuren els dos últims eixos, que inclouen el documental de Michelle Porte Savannah Bay c'est toi (1984), l'antologia d'articles Outside (1981) i fragments diversos del film Das Mal des Todes (1985) de Peter Handke, una adaptació lliure del clàssic durasià La Maladie de la mort (El mal de la mort, 1982).
Una bona part dels materials fotogràfics i cinematogràfics que es mostren en l'exposició han estat cedits per Jean Mascolo, fill de Marguerite Duras, que custodia una part de l'arxiu de l'autora. També s'hi mostren nombrosos documents d'època pertanyents a l'Institut national de l'audiovisuel (INA).
 Comissari: Valentín Roma,
Address:

C la Rambla, 99

:

Ciutat Vella

Neighborhood:

el Raval

City:

Barcelona
When

From 12/03/2022 to 02/10/2022
Website
E-mail
E-mail:

lavirreinaci@bcn.cat
You may also be interested in...