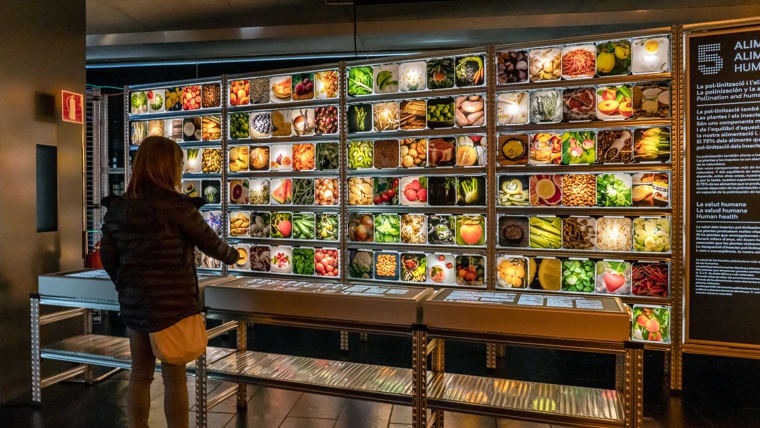 Schedule
Period
Days
Hours
Preus

de l'1 de novembre
al 31 de gener

Tots els dies i festius
excepte 25 de desembre
1 de gener

de 10:00 h a 17:00 h

Entrada general de: 5 €
(jardí + exposició temporal)

Reduïda: 2.50 €
- Persones de 16 a 29 anys
- Majors de 65 anys
- Famílies, mínim un membre menor de 16 anys
- Aturats
- Carnet família nombrosa
- Carnet família monoparental
- carnet de Biblioteques de Barcelona
- posseïdors de la targeta rosa reduïda

Gratuïta:
- Els diumenges des de 15 h fins a l'hora de tancament
- Primer diumenge de mes
- Registrats al programa Gaudir+BCN
- Amics del Jardí Botànic
- Amics del Museu de Ciències
- Menors de 16 anys
- Carnet de l'ICOM
- Socis Associació Museòlegs de Catalunya
- Professors ensenyament reglat acreditats per la direcció
- Professors amb grups d'alumnes
- Targeta rosa gratuïta
- Passi metropolità d'acompanyant discapacitat
- Periodistes acreditats
- Guies turístics professionals
- Targeta BCN Card


de l'1 de febrer
al 31 de març

de 10:00 h a 18:00 h

de l'1 d'abril
al 31 de maig

Tots els dies
excepte 1 de maig

de 10:00 h a 19:00 h

de l'1 de juny
al 31 d'agost

Tots els dies
excepte 24 de juny

de 10:00 h a 20:00 h

de l'1 de setembre
al 31 d'octubre

de 10:00 h a 19:00 h
L´objectiu de l´exposició és donar a conèixer i sensibilitzar la ciutadania sobre el paper essencial dels pol·linitzadors, en especial, de les abelles silvestres, per garantir la supervivència de la majoria de plantes del planeta Terra.
El declivi dels pol·linitzadors en tots els continents posa en risc la sostenibilitat de l´agricultura i el subministrament d´aliments. Nou de cada deu plantes necessiten un insecte per donar fruits i llavors i es calcula que el 75% dels aliments que es produeixen arreu del món depenen de la pol·linització per insectes. Les causes del declivi són múltiples: els plaguicides utilitzats en l´agricultura industrial, la fragmentació i pèrdua d´hàbitat, la contaminació ambiental, entre d´altres.
Amb un plantejament museogràfic visual i pedagògic amb diversos nivells de lectura per arribar tant al públic escolar com al científic, coneixerem com es dóna la pol·linització, com hi actuen aquests insectes i el paper que juguen en l´equilibri ecològic de la Terra.
Davant la situació crítica que genera aquesta davallada de biodiversitat, l´exposició pretén traçar un guió de bones pràctiques que ajudi a la ciutadania a implicar-se en accions que capgirin aquesta crisi.
Finalment, la mostra inclou diverses iniciatives ambientals promogudes per entitats, associacions i alhora les pròpies administracions i es completa amb un programa d´activitats adreçat a tots els públics.
Aquesta activitat forma part de la Setmana Ciutadana de l'Alimentació Sostenible, iniciativa promoguda per Barcelona Capital Mundial de l'Alimentació Sostenible
Address:

Carrer del Doctor Font i Quer, 2

:

Sants-Montjuïc

Neighborhood:

el Poble-sec

City:

Barcelona
When

From 20/10/2020 to 31/10/2022
Website
You may also be interested in...