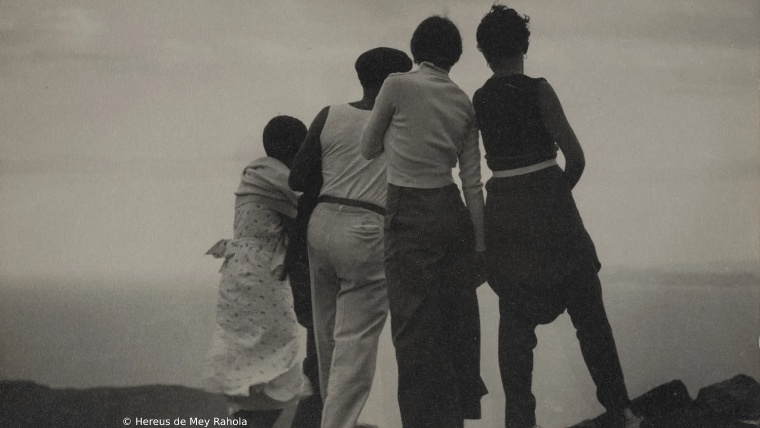 Photography. For the first time, the Museu Nacional showcases the career of this pioneering photographer.
Mey Rahola (Lleó, 1897 - Vaucresson, 1959) was one of the first women to make a name for herself in the field of artistic photography in Spain. In a very short time between 1934 and 1936, what had been a hobby became part of the public domain through exhibitions, prizes and publications.
Rahola was a photographer in every way possible for a woman of her time: a modern amateur who exhibited publicly in salons and competitions, a professional with a brief career as a photojournalist, and finally, a humanist photographer working far away from the bright lights and the public eye. A body of her work has been handed down, signed and well-organised, but forgotten for more than half a century. Her personal collection has been battered by the vagaries of history, remaining dispersed among the family for many years.
This exhibition follows a chronological path divided into three stages that reflect the changes in her photographic work, which in turn follows the course of the great political crises of the century: 1931-1936, 1937-1945 and 1946-1959.
It is presented as a triptych that highlights the coherence of a career that was always attentive to the concerns of the times, despite the historical changes of direction.
Schedule
Period
Days
Hours
Preus
Observation

Del 25 novembre al 30 abril

De dimarts a dissabtes

de 10:00 h a 18:00 h

Entrada general: 12 €




Combinada: 20 € (MNAC + Poble Espanyol)

Tarifes reduïdes 8.4 €:

- Estudiants

- Grups d'estudiants o escolars sense reserva prèvia acompanyats per mestres o professors

- Famílies (2 adults + 1 menor)

- Carnet família nombrosa

- Grups d'adults




Bus Turístic i Barcelona City Tour, 20% de descompte

Joves amb el Carnet Jove, 50% de descompte




Abonament anual MNAC: 18 €

Articket: 35 €

Entrada gratuïta:

- Menors de 16 anys

- Majors de 65 anys

- Persones a l'atur acreditades

- Dissabtes (a partir de les 15 h)

- Professors acreditats

- Grups d'estudiants o escolars amb reserva prèvia acompanyats per mestres o professors

- Membres de l'ICOM

- Primer diumenge de mes

- 12 de febrer (Santa Eulàlia)

- 18 de maig(Dia Internacional dels Museus)

L'entrada és vàlida per a dos dies durant un mes a partir de la data de compra

Les visites de grups cal concertar-les per telèfon

Diumenge i festius excepte Nadal i Any Nou

de 10:00 h a 15:00 h

De l'1 maig al 22 juny

De dimarts a dissabtes

de 10:00 h a 20:00 h

Diumenge i festius excepte 1 maig

de 10:00 h a 15:00 h
Mey Rahola (Lleó, 1897-Vaucresson, 1959) va ser una de les primeres dones en fer-se un nom en l'àmbit de la fotografia artística a Espanya. En molt poc temps, entre 1934 i 1936, la seva afició va adquirir una dimensió pública a través d'exposicions, premis i publicacions.
Afirmant-se com a fotògrafa més enllà de l'àmbit familiar, Mey Rahola va participar en la construcció del nou paper de la dona en l'esfera pública durant la II República: una dona independent, viatgera, empàtica i irònica. La guerra i l'exili van truncar aquesta carrera prometedora, però va seguir fent fotografies ambicioses, professionalment durant la Segona Guerra Mundial i després com a aficionada.
Mey Rahola va ser fotògrafa de totes les maneres possibles per a una dona del seu temps: aficionada moderna amb projecció pública en salons i concursos, professional amb una breu vocació de fotoreportera i, finalment, fotògrafa humanista allunyada de la llum pública. Va llegar una obra d'autora, firmada i ordenada, però que ha romàs oblidada durant més de mig segle. El seu fons personal ha rebut les sotragades de la història i ha restat durant molts anys dispers en la família. Per primer cop, el Museu Nacional posa en valor la trajectòria d'aquesta fotògrafa pionera. A més, durant el 2020 i el 2021 s'ha adquirit un total de 14 de les seves obres, a través del Pla Nacional de Fotografia, que es podran veure a l'exposició.
Aquesta, de caràcter antològic, segueix un itinerari cronològic en tres etapes que reflecteixen les transformacions de la seva pràctica fotogràfica, que a la vegada es succeeixen al ritme de les grans crisis polítiques del segle: 1931-1936, 1937-1945 i 1946-1959. Es planteja com un tríptic que posa en valor la coherència d'una trajectòria constantment atenta a les inquietuds del seu temps malgrat les ruptures històriques.
Simultàniament, el Museu de l'Empordà presentarà una exposició que posarà l'accent en el gènere fotogràfic en què més va destacar la Mey Rahola als anys 1930, el de les marines. Com la fotografia, la navegació esportiva va ser per a ella un espai d'emancipació i d'afirmació al qual la Guerra Civil, amb el seu rastre de destrucció i exili, va posar punt i final. Han quedat, però, empremtes d'aquell idil·li modern que permeten avui reconstruir-lo i revelar la mirada i la trajectòria artística d'una dona única.
Aquest projecte s'emmarca dins del programa d'activitats del Centenari de l'Agrupació Fotogràfica de Catalunya 2023.
Address:

C Mirador Palau Nacional, 6*10

:

Sants-Montjuïc

Neighborhood:

el Poble-sec

City:

Barcelona
When

From 25/11/2022 to 22/06/2023
Website
E-mail
E-mail:

info@museunacional.cat
You may also be interested in...