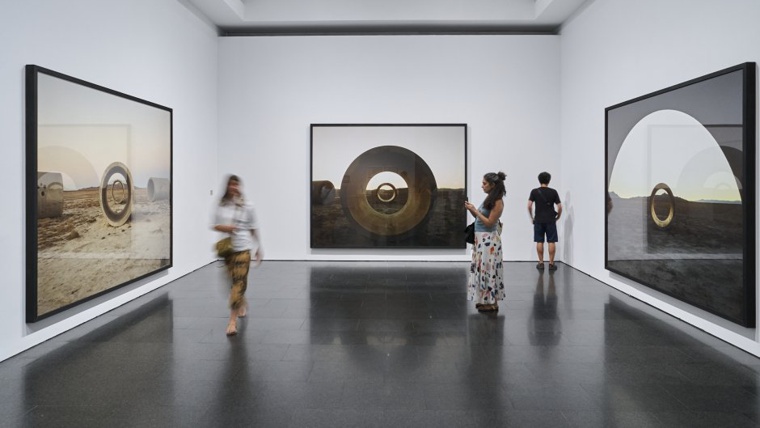 Sculpture and installation. The first major European exhibition that explores the artistic legacy of Nancy Holt through an extensive selection of works produced between 1966 and 1992.
Nancy Holt (Worcester, Massachusetts, 1938 - New York, 2014) was a key figure in the New York art scene and an innovator of site-specific installation and the moving image.
Across five decades she asked questions about how we might understand our place in the world, investigating perception, systems, and place. Nancy Holt / Inside Outside presents a major selection of her work that reveals the wide range of her artistic practice, including concrete poetry, sound pieces, photography, film, video, sculpture, installations, land art, architectural interventions, artist's books and sketches. The exhibition also presents documentation on her working practices.
Schedule
Period
Days
Hours
Preus

Del 30 juny al 24 setembre

Dilluns, dimecres, dijous, divendres i dissabte, 15 agost,
11 setembre i
24 setembre

de 10.00 h a 20.00 h

Entrada general: 12 €

(l'entrada té validesa durant un mes. Permet accedir a totes les exposicions en curs, a les activitats del programa MACBA es viu i a totes les visites guiades)




Entrada reduïda: 9.60 €

- Estudiants

- Majors 65 anys sense Targeta Rosa

- Grups (+ de 15 persones)

Entrada reduïda: 6 €

- Carnet Jove

- Carnet de la Xarxa de Biblioteques

- Ateneu Barcelonès

Entrada gratuïta:

- Menors 14 anys

- Targeta rosa

- Majors de 65 anys amb Targeta Rosa

- Dissabtes de 16 a 20 h

- Amics del MACBA

- Socis de l'AAVC

- Membres ICOM

- Persones a l'atur

- Carnet de família nombrosa o monoparental

- 18 de maig(Dia Internacional dels Museus)

- 24 de setembre (La Mercè)




Entrada en hores vall: 10,20 €

dilluns, dimecres, dijous i divendres de 13:30 h a 15:00 h; dissabtes i diumenges de 10:00 h a 11:00 h.




Carnet Amic MACBA: 18 €

Entrada il·limitada durant un any.

Articket: 38 €

Diumenge i festius excepte 15 agost, 11 setembre i 24 setembre

de 10.00 h a 15.00 h

Del 25 setembre al 29 octubre

Dilluns, dimecres, dijous i divendres

d'11:00 h a 19:30 h

Dissabte i
25 setembre

de 10:00 h a 20:00 h

Diumenge i festius excepte 25 setembre

de 10:00 h a 15:00 h
Others
Occur on:

Tickets sold at:
Nancy Holt (Worcester, Massachusetts, 1938 – Nova York, 2014) va ser una figura clau en l' escena artística novaiorquesa i pionera en el camp de la instal·lació site-specific i la imatge en moviment. Inside Outside és la mostra més completa de la seva pràctica a Europa fins avui, amb una ambiciosa presentació de la seva polifacètica obra. L'exposició inclou una selecció de treballs realitzats entre 1966 i 1992, entre les quals hi ha cinema, vídeo, fotografia, poesia concreta, obres sonores, escultura i instal·lacions de grans dimensions, així com dibuixos i documentació dels seus projectes de Land Art. Dues obres de la seva sèrie System Works –instal·lacions site-specific– es mostraran aquí en la seva primera recreació pòstuma. És el cas de Ventilation System, una escultura de caràcter lúdic que ocuparà diverses plantes, tant interiors com exteriors, en un diàleg amb l'arquitectura del MACBA.
La percepció i els límits entre el «dins» i el «fora» constitueixen el fil conductor de l'exposició. La mateixa Nancy Holt va ser una figura que es trobava «dins» i «fora» del sistema de l'art. Va ser una artista clau del Land Art i l'art conceptual, i tanmateix la seva obra no va aconseguir mai el reconeixement que van obtenir altres artistes masculins coetanis, una anomalia que aquesta exposició pretén esmenar. Subratllant l'interès de Holt per la percepció, la llum i l'espai, Nancy Holt. Inside Outside presenta una sèrie d'obres fotogràfiques inèdites. També es mostraran aquí per primera vegada les sèries Alaskan Pines (1986), Athabascan/Russian Orthodox Graveyards (1986) i Miami Puddles (1969), juntament amb obres sonores i fílmiques dels seus viatges pel paisatge nord-americà.
Holt sentia fascinació pels sistemes. Li interessaven especialment el temps mesurat i l'astronòmic, el llenguatge i la percepció, l'economia i l'energia. A mitjans dels anys seixanta, va treballar com a editora literària assistent per a la revista Harper's Bazaar i el 1966 va començar a escriure poesia concreta. Poc després va ampliar la recerca sobre el llenguatge de la pàgina al paisatge, guiant els seus amics per llocs desconeguts a través d'instruccions escrites. A principis dels setanta, Holt va crear els Locators, escultures fetes de tubs d'acer industrial en forma de T pels quals cal mirar amb un sol ull: els anomenava «dispositius per veure-hi». Els Locators la van portar a produir projectes ambientals a gran escala directament en el paisatge, com Sun Tunnels (1973-1976) i la instal·lació reflectant Mirrors of Light (1973-1974), que ocupa tot l'espai expositiu.
La publicació Nancy Holt. Inside Outside explorarà el llegat artístic de Holt a través d'una àmplia selecció d'obres del 1966 al 1992. Inclourà textos de Karen di Franco i James Nisbet que suposen una gran aportació a la bibliografia d'aquesta artista, així com una tria de textos de la mateixa Holt i un assaig de Teresa Grandas, co-comissària de l'exposició.
Address:

Plaça dels Àngels, 1

:

Ciutat Vella

Neighborhood:

el Raval

City:

Barcelona
When

From 13/07/2023 to 07/01/2024
Website
Web venda d'entrades:
You may also be interested in...