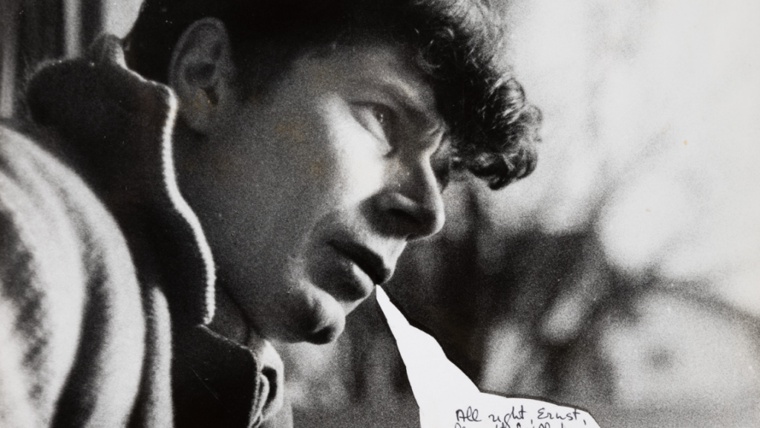 Visual arts. One of the most complete exhibitions around the figure of John Berger.
The English art critic, painter and writer, John Berger (Hackney, London, 1926 – Paris, 2017) wrote essential texts in every field he devoted himself to — playwriting, novels, essays, poetry and film and television guides, and his career was noted for forms of narrating and ways of seeing that imbue every image and narrative with his ideological, aesthetic and moral implications.
The exhibition on at the La Virreina Centre de la Imatge aims to explore the ideological scope of this figure's work. It is entitled Permanent Red, after the book of the same name published in 1960, where Berger brought together a selection of his art critiques for the Marxist magazine, New Statesman.
You will find further information from the La Virreina Centre de la Imatge website.
Schedule
| | Days | Hours | Preus | |
| --- | --- | --- | --- | --- |
| | Dimarts, dimecres, dijous, divendres, dissabte i diumenge i festius | d'11:00 h a 20:00 h | Entrada Gratuïta | |
John Berger (Hackney, Londres, 1926 – París, 2017) ocupa un espai de referència entre aquells autors que, a mitjan segle XX, van qüestionar les interpretacions formalistes sobre com havien de llegir-se les imatges des de la contemporaneïtat.
Així, si bé va produir textos emblemàtics en gairebé tots els camps de l'escriptura —poesia, dramatúrgia, novel·la, assaig i guió cinematogràfic i televisiu—, en Berger sobresurten unes formes de narrar, unes maneres de veure, que restitueixen les implicacions ideològiques, morals i estètiques de cada història o de cada imatge, tot plegat sense deixar-se atrapar per l'argot academicista ni pel metallenguatge de la teoria.
Permanent Red és una exposició que pren el nom del llibre homònim, publicat el 1960, en què s'apleguen algunes de les crítiques d'art de Berger per a la revista marxista New Statesman, amb la qual va col·laborar durant més d'una dècada, des de 1951. Aquests escrits, molt coneguts a l'època, oferien lectures furibundes contra el gust burgès —el mateix títol és una provocació en aquest sentit— i presentaven artistes desconeguts o molt minoritaris, obres anticanòniques i anàlisis que discrepaven de la historiografia conservadora.
La mostra, una de les més completes que s'han fet fins avui, incideix en el caràcter polític de la trajectòria de Berger i en les seves col·laboracions amb fotògrafs com Jean Mohr, cineastes com Mike Dibb i Alain Tanner, dramaturgs com Simon McBurney o poetes como Mahmud Darwix. A més, s'hi exhibeixen dibuixos i materials documentals museogràficament inèdits, cedits pels hereus de l'escriptor anglès, la British Library de Londres —on hi ha dipositada una part significativa del seu arxiu personal—, Photo Elysée – Musée cantonal pour la photographie de Lausana i la BBC.
Després d'abordar Sobre la fotografia, de Susan Sontag, i La cámara lúcida, de Roland Barthes, Permanent Red completa una mena de tríptic expositiu realitzat per La Virreina Centre de la Imatge al voltant d'aquests tres autors seminals per comprendre la reflexió visual.
Address:

C la Rambla, 99

:

Ciutat Vella

Neighborhood:

el Raval

City:

Barcelona
When

From 13/05/2023 to 10/10/2023
Website
E-mail
E-mail:

lavirreinaci@bcn.cat
You may also be interested in...