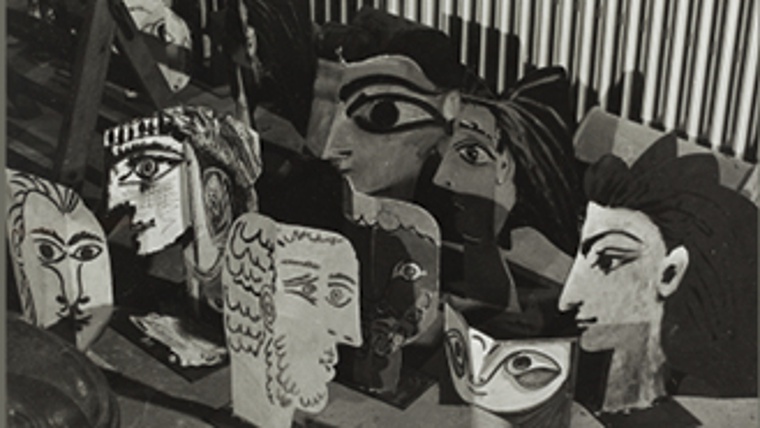 Photography. The exhibition is a family album and diary of a friendship at the same time.
Picasso-Clergue presents in the form of a chronicle a selection of the Lucien Clergue photographic collection related to Picasso, acquired in 2016 by the Museu Picasso: nearly 600 black-and-white photographs in silver salt, all period prints, the story in images that Clergue made of Picasso throughout the many encounters that took place in the south of France, where they both lived.
Lucien Clergue (Arles, 1934 - Nimes, 2014) started out in the world of photography at a very early age. On April 5, 1953, he bumped into Picasso at a bull run in Arles and made the most of his opportunity to photograph him and show him other pictures. They would meet again two years later at La Californie, the artist's house in Cannes. That was the start of a friendship that would last until Picasso's death in 1973. The affection and harmony between the two of them led to the photographic recording of small episodes in Picasso's life, scenes that took place over time and that would end up narrating a part of the artist's life from the point of view of his photographer friend.
Schedule
Period
Days
Hours
Preus
Observation

Del 22 juny al 30 setembre

Dimarts, dimecres, dijous, divendres, dissabte i diumenge i festius excepte 24 juny

de 10.00 h a 20.00 h

Entrada general: 12 €

(col·lecció permanent+temporal)




Reduïda (caldrà acreditar la condició): 7 € (col·lecció permanent+temporal)

- Persones de 18 a 25 anys

- Persones de 65 anys o més

- Titulars targeta rosa reduïda

- Persones a l'atur

- Titulars del carnet de Biblioteques de Barcelona




Articket: 30 €




Carnet del Museu

- Individual: 15 € (Col·lecció + exposició temporal)




Gratuïta (caldrà acreditar la condició):

- El 1r diumenge de cada mes

- Tots els dijous a partir de les 16 h

- Menors de 18 anys

- Estudiants universitaris

- Titulars targeta rosa gratuïta

- Titulars passi metropolità d'acompanyant d'un discapacitat

- Carnet de l'ICOM

- Professors (reserva imprescindible)

- Els guies turístics en l'exercici de la seva feina

- Els periodistes acreditats

- 12 i 13 de febrer (Santa Eulàlia)

- 18 de maig (Dia Internacional dels Museus)

- 24 de setembre (la Mercè)

Es recomana la compra anticipada de l'entrada

Les entrades a les exposicions es poden comprar on-line

al web del Museu.

El Carnet del Museu permet el lliure accés a tot el museu

sense passar per taquilles, durant un any des de la data

de l'adquisició.

Les visites en grup només amb concertació prèvia per telèfon,

fax o correu electrònic.

Un responsable de grup per cada 10 visitants pot tenir l'entrada gratuïta.




Visites accessibles regulars per a persones amb discapacitats

auditives o visuals i per als seus acompanyants.:

El tercer dijous de cada mes a les 18.30 h.

Amb reserva al telf. 932562997, de dilluns a divendres, de 9 a 14 h.

De l'1 octubre al 20 octubre

Dimarts, dimecres, dijous, divendres, dissabte, diumenge i festius

de 10.00 h a 19.00 h
Lucien Clergue (Arles, 1934 - Nimes, 2014) es va iniciar de ben jove en el món de la fotografia. El 5 d'abril de 1953 va coincidir amb Picasso en una cursa de braus a Arles i va aprofitar l'ocasió per fotografiar-lo i mostrar-li altres instantànies. Dos anys més tard, es retrobarien a La Californie, la casa de l'artista a Canes. Començava així una relació d'amistat que es perllongaria fins a la mort de Picasso, el 1973. L'afecte i la sintonia entre tots dos va propiciar el registre fotogràfic de petits episodis de la vida de Picasso, d'escenes que se succeïen en el temps i que acabarien narrant una part de l'existència de l'artista des de l'òptica de l'amic fotògraf.
Address:

Carrer de Montcada, 15 - 23

:

Ciutat Vella

Neighborhood:

Sant Pere, Santa Caterina i la Ribera

City:

Barcelona
Where
When

From 22/06/2022 to 20/10/2022
You may also be interested in...