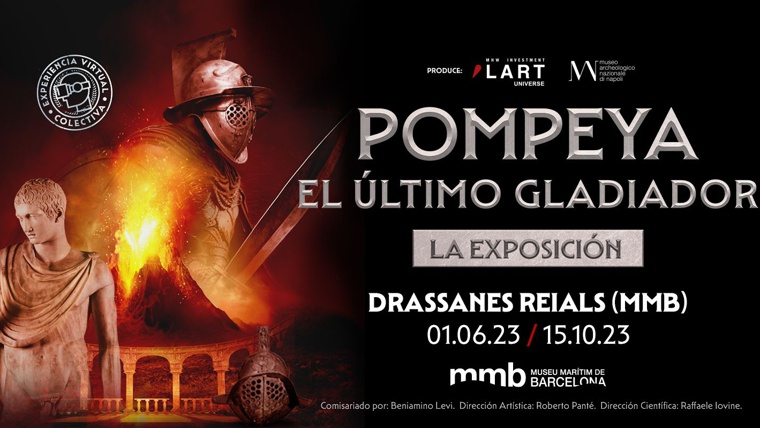 Immersive experience. The largest virtual reality experience created in Europe makes it's world premiere in Barcelona.
Pompeii returns to life in Barcelona with Pompeii. The Last Gladiator, combining an exhibition of more than 150  original pieces from the National Museum of Archaeology in Naples, one of the oldest and most important museums of its kind in the world, with a unique immersive experience.
A virtual reality journey catapults you into Roman civilisation in the 1st century, to relive the heroics of the gladiators and the times that shaped the existence of the inhabitants of Pompeii. You will be part of a 360-degree reality, bearing witness to:
The path of the gladiators to reach the arena, where you'll even see fights with elephants.
The spectacular eruption of Vesuvius, offering an extraordinarily realistic and thrilling experience. 
Schedule
Days
Hours
Preus
Observation

Cada dia

de 10.00 h a 20.00 h

Entrada general: 16 €

(adults)




Entrada reduïda: 12 €

Infants de 7 a 14 anys
Persones amb discapacitat + acompanyant
Persones en atur
Majors de 65 anys
Carnet Jove
Familia nombrosa
Estudiants menors de 25 anys




Infants de 0 a 6 anys (inclòs): Entrada Gratuïta (han de sol·licitar l'entrada gratuïta a les taquilles del recinte)




Grups: 10 €




Entrada Premium: 22 €




(+ despeses de gestió)

Últim passi a les 19 h




Durada: 1 h aprox.
Més de cent cinquanta troballes exposades al Museu Marítim.
Una finestra al món antic al cor de Barcelona. Més de cent cinquanta peces originals del Museu Arqueològic Nacional de Nàpols, un dels museus més antics i importants del món per la riquesa i singularitat del seu patrimoni, són els protagonistes d'una exposició única al Museu Marítim: "Pompeia i el darrer gladiador ".
Un viatge al passat a la Pompeia de fa dos mil anys, quan va florir com a port comercial i ciutat militar estratègica; una oportunitat única i irrepetible per endinsar-se al cor de la vida quotidiana i la dinàmica social de la ciutat sepultada per l'erupció del Vesuvi l'any 79 dC
A través d'un viatge a Realitat Virtual seràs catapultat a una experiència immersiva única, a la civilització romana del segle I, per reviure les gestes heroiques dels gladiadors i reviure els moments que van marcar l'existència dels habitants de Pompeia.
Address:

Avinguda de les Drassanes, 1

:

Ciutat Vella

Neighborhood:

el Raval

City:

Barcelona
When

From 01/06/2023 to 15/10/2023
Website
Web venda d'entrades:
E-mail
E-mail:

atencioncliente@pompeyaelultimogladiador.com
You may also be interested in...