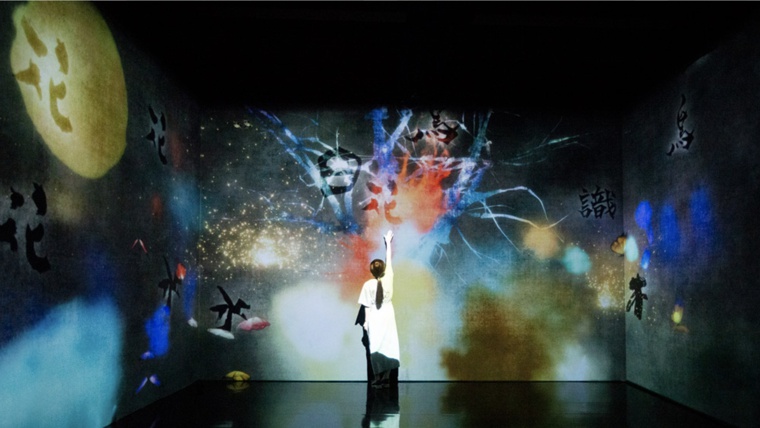 Exhibitions. Enjoy an immersive experience at the CaixaForum which is sure to have an impact on you.
CaixaForum  invites you to engage in a unique encounter through experiential art. An ecosystem which combines art, tech and nature through two immersive experiences which will help us rethink our relationship with our environment.
An interactive room which offers sensory changes according to the way visitors interact with it, with the walls coming to life through projections. Sounds magic, doesn't it? Experience it from Monday to Friday and on public holidays from 10 to 8 pm. You can purchase tickets on the CaixaForum website .
TeamLab is a group from Japan formed in 2001 and made up of professionals from several disciplines (art, programming, engineering, mathematics and architecture) that investigates links between art, technology, design and nature with the aim of exploring the relationship of individuals with the world that surrounds them.
Schedule
Days
Hours
Preus

Tots els dies i festius

de 10:00 h a 20:00 h

Entrada general de: 6 €

Entrada reduïda 25% descompte:

. Carnet Família Nombrosa

. Carnet Biblioteques

Entrada reduïda 50% descompte:

. Amics dels Museus

Entrada gratuïta:
. clients de CaixaBank
(s'ha de presentar qualsevol targeta de CaixaBank)
. menors fins els 16 anys
. Docents
. Premsa
. Persones amb discapacitat i acompanyants
. BCN Card
. ICOM
. Carnet Jove

teamLab és un col·lectiu sorgit al Japó l´any 2001 format per professionals de diferents disciplines (art, programació, enginyeria, matemàtica o arquitectura) que investiga les vinculacions entre l´art, la tecnologia, el disseny i la natura amb l´objectiu d´explorar la relació dels individus amb el món que els envolta.
Per a aquesta exposició proposa dues experiències immersives, en transformació contínua: Born from the Darkness, a Loving, and Beautiful World i Graffiti Nature: Lost, Immersed and Reborn. Són obres obertes interactives, que s´activen i s´actualitzen constantment gràcies a la implicació de les persones que les visiten.
Address:

Avinguda de Francesc Ferrer i Guàrdia, 6*8

:

Sants-Montjuïc

Neighborhood:

la Font de la Guatlla

City:

Barcelona
When

From 17/05/2021 to 09/01/2022
Website
E-mail
E-mail:

icaixaforumbcn@magmacultura.net
You may also be interested in...