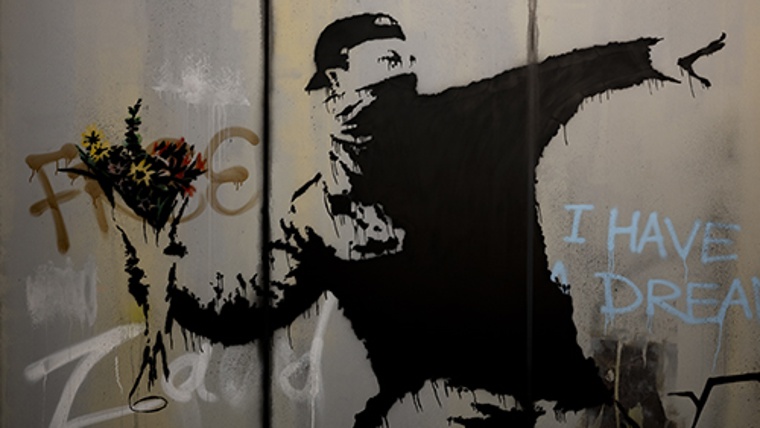 Urban art. The master of street art's immersive exhibition is coming to Barcelona for the first time.
The Espacio Trafalgar hall is bringing The world of Banksy - The immersive experience exhibition over to Barcelona for the first time, featuring over a hundred of the artist's works and a unique immersive experience.
Despite his establishment as an internationally renowned artist, Banksy has managed to preserve his anonymity and continue having an impact with mural works and happenings of every kind. Banksy was probably born in Bristol, in the United Kingdom, around 1974. He's been a key player in the world of street art since the latter half of the 1990s, offering a unique and provocative style that has turned him into a legend.
The exhibition offers guided tours and night-time sessions.
Schedule
Days
Hours
Preus

Dilluns, dimarts, dimecres, divendres, dissabte i diumenge i festius

de 10:00 h a 20:00 h

Entrada general: 12 €

Adults (més de 25 anys): 12 €
Estudiants (fins els 25 anys): 9 €
Seniors (més de 65 anys): 9 €
Nens i nenes (fins als 6 anys): Gratuït
Grups (a partir de 10 persones): 8 €
Persones amb mobilitat reduïda: 8 €

Dijous

de 10.00 h a 21.00 h
Address:

C Trafalgar, 34

:

Ciutat Vella

Neighborhood:

Sant Pere, Santa Caterina i la Ribera

City:

Barcelona
Where
When

From 29/06/2021 to 31/12/2022
Website
Web:

Web venda d'entrades:
You may also be interested in...