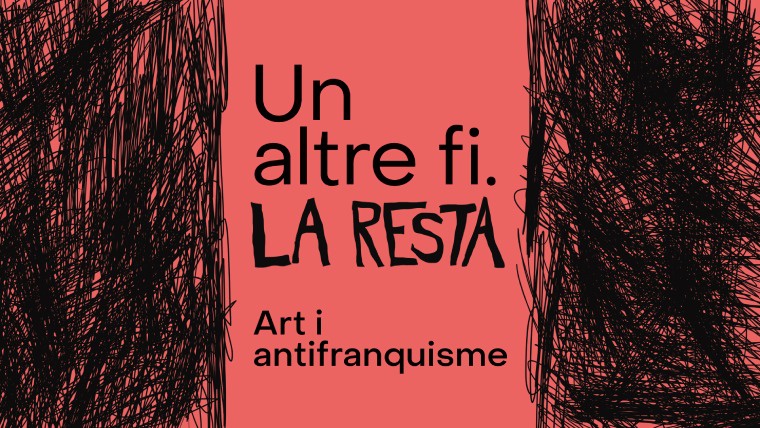 Historical Memory. An opportunity to discover the rebellion silenced during the Francoist regime.
The exhibition entitled Un altre fi. LA RESTA. Art i antifranquisme [Another end. THE REMAINDER. Art and anti-Francoism] brings together works at the Born CCM from 19 contemporary creators spanning several generations, turning memories silenced by the regime into artistic material.
Guided tours, talks and artistic explorations have been organised around the exhibition, with not just its creators but also its curators taking part, who will take us beyond the exhibition's limits.
You can check out the activities programme here.
Schedule
Period
Days
Hours
Preus
Observation

Del 18 novembre al 28 febrer

De dimarts a dissabtes

de 10:00 h a 19:00 h

Entrada Gratuïta

Visita guiada a l'exposició

'Un altre fi. LA RESTA. Art i antifranquisme'

Del 18 de novembre al 16 d'abril de 2023

Dissabte a les 18.00 h  i diumenge a les 11.30 h

Preu de la visita: 3 €




diumenges i festius
excepte 25 de desembre
26 de desembre
1 de gener

de 10:00 h a 20:00 h

Entrada Gratuïta

26 de desembre

de 10:00 h a 14:30 h

Entrada Gratuïta

De l'1 març al 16 abril

De dimarts a diumenge i festius

de 10:00 h a 20:00 h

Entrada Gratuïta
L'exposició 'Un altre fi. La resta. Art i antifranquisme" reuneix a El Born CCM obres de dinou creadors contemporanis de diverses generacions que converteixen en matèria artística la memòria dels silenciats pel règim.
Un altre fi mira entre les escletxes d'unes circumstàncies biopolítiques excepcionals pel que fa al govern de la vida social, les relacions econòmiques i laborals, les relacions sexuals i reproductives i les relacions de producció i transmissió de l'univers simbòlic sota el franquisme. Aquest projecte no pretén ser exhaustiu ni abastador. Volem actualitzar i obrir l'exercici memorialístic cap a d'altres línies d'observació —algunes molt treballades des de la historiografia, d'altres no tant— a partir de les obres d'una selecció d'artistes que han posat la mirada en llocs que de vegades semblen irrellevants, però que ens donen punts de referència del que van ser les resistències culturals d'una societat devastada físicament i moralment. Volem atendre les pervivències silenciades de la rebel·lia. Tal com comença el poema Final, de Joan Brossa, ens sumem al desig: «Havies d'haver fet una altra fi.»*
La selecció d'obres d'aquesta exposició esdevé l'ancoratge i el corpus bastit a partir d'allò criminalitzat, invisibilitzat i desterrat que anomenem LA RESTA. Un relat que aixeca la catifa del franquisme per trobar la pols amb la qual recosir algunes genealogies possibles o imaginables en un exercici de reparació necessari que tota comunitat mereix.
Un altre fi. LA RESTA s'allunya del monument gran i rotund. És un relat fet a partir de fragilitats, desitjos i retalls, a escala humana, que defuig els binarismes que superposen una violència a una altra sense plantejar noves preguntes als nous temps. La memòria històrica ens hauria de servir per suturar els nostres relats personals i col·lectius i per poder-los concretar políticament, més enllà de l'espectacle, i començar, així, a consolidar nous desenllaços.
Curadoria a càrrec de: Nora Ancarola i Amanda Cuesta
Artistes: Pep Agut, Alán Carrasco, Domènec, Marcelo Expósito, Dora García, Maria Amparo Gomar Vidal, Carles Guerra, Antoni Hervàs, Concha Jerez, Lola Lasurt Bachs, Marco Noris, Ndong Obama, Filiberto Obama Nsué, Ana Teresa Ortega, María Ruido, Joan Anton Serra Ollé, Jaume Serra Torelló, Francesc Torres, Guillem Viladot.Una exposició a cura de Nora Ancarola i Amanda Cuesta (La Caníbal)
Address:

Plaça Comercial, 12

:

Ciutat Vella

Neighborhood:

Sant Pere, Santa Caterina i la Ribera

City:

Barcelona
When

From 18/11/2022 to 18/04/2023
Website
E-mail
E-mail:

infoelbornccm@bcn.cat

E-mail:

reserveselbornccm@eicub.net
You may also be interested in...