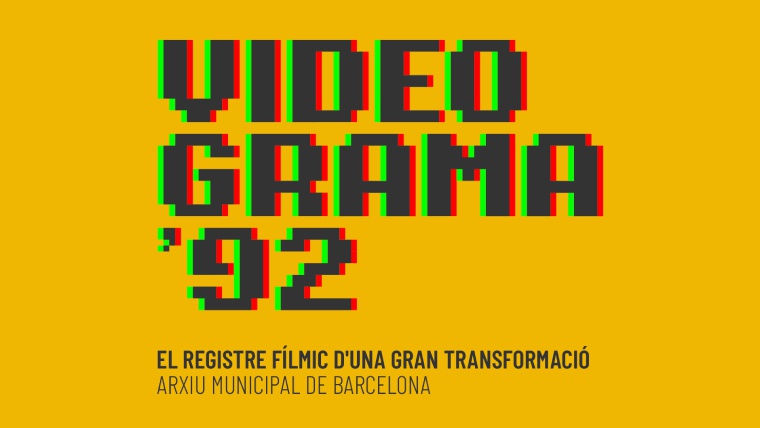 Hybrid exhibition. Would you like to revisit the transformation of Olympic Barcelona with a fresh pair of eyes?
Among the documentary collections on the 1992 Olympic Games held by the Arxiu Municipal de Barcelona, production company Clara Films' audiovisual material, which is mostly based on film recordings of the urban and infrastructural transformation of Barcelona and its metropolitan area between 1985 and 2014, stands out.
The exhibition Videograma'92. The film record of a great transformation' is an exhibition in both face-to-face and virtual format that provides access to Clara Films production company material, as well as other collections. Conceived as a visit to the building works themselves, the exhibition allows visitors to tour, map and study in depth the key sites of urban planning projects in the city. 
You can visit the exhibition at the Arxiu Municipal Contemporani de Barcelona , and the audiovisual materials can be consulted online via the Videograma'92 website.
With this exhibition, the Arxiu Municipal de Barcelona joins in the commemoration of the 30th anniversary of the Olympic Games.
Admission is free.
Schedule
| | Days | Hours | Preus | Observation |
| --- | --- | --- | --- | --- |
| | De dilluns a divendres | de 09.00 h a 18.00 h | Entrada Gratuïta | Inauguració: 15 de novembre a les 17.00 h |
El dimarts 15 de novembre s'inaugura l'exposició "Videograma'92. El registre fílmic d'una gran transformació" a l'Arxiu Municipal Contemporani de Barcelona.
Aquesta exposició s'ha organitzat en motiu de la donació de la productora CLARA FILMS de més de 6.000 cintes de video, amb una part de les quals s'ha pogut muntar l'exposició, coincidint amb el 30è aniversari dels JJOO Barcelona'92.
Amb l'assistència de la regidora Montserrat Ballarín, a les 17h hi haurà un breu recorregut per l'exposició i a les 18.15h hi haurà una taula rodona al voltant del tema.
Mostrem una exposició presencial i virtual que dona accés a una àmplia selecció dels materials audiovisuals enregistrats i editats per la productora Clara Films entre el 1985 i el 1992 per encàrrec de HOLSA. També s'hi mostren imatges del mateix enregistrament i producció dels vídeos esmentats, així com fotografies i documents conservats actualment als centres de l'Arxiu Municipal de Barcelona. Pensada com una visita d'obres, la mostra permet recórrer, situar al mapa i aprofundir en els principals àmbits d'intervenció urbanística a la ciutat, des del front marítim fins a la muntanya de Montjuïc, en seqüències que van des dels enderrocs fins a les inauguracions. Els materials exposats restaran en línia per poder consultar-los i difondre'ls,al web barcelona.cat/videograma92
Address:

Carrer del Bisbe Caçador, 4

:

Ciutat Vella

Neighborhood:

el Barri Gòtic

City:

Barcelona
When

From 15/11/2022 to 15/01/2023
You may also be interested in...