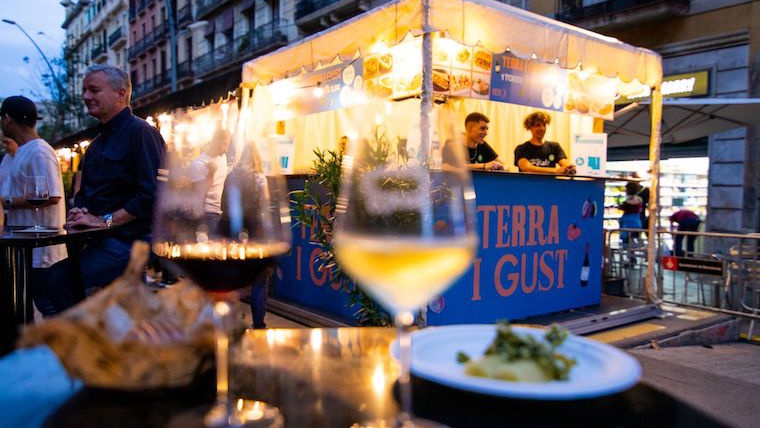 Food and drink. The 3rd edition of this culinary festival is taking place in a brand-new venue at Parc de la Ciutadella.
Terra i Gust, the Sustainable Food Festival, is on from 22 to 24 September, inviting you to a more conscientious enjoyment of music, food and drink, with quality events and activities for helping to look after the planet with sustainable practices.
This year's festival is expanding its culinary offers to include 27 different dishes at a price of €5 each.
In addition, there will also be some thirty workshops, showcooking, games, tasting sessions and chats learning how to change habits and discover the culinary world through more sustainable practices.
Schedule
Days
Hours
Preus

Divendres

de 20.30 h a 22.00 h

Entrada general: 5 €

(preu dels platerets)




Preu de les begudes: 2.50 €

Dissabte i diumenge

de 12.00 h a 22.00 h
Others
Occur on:

Organised by:
Tastets, showcookings, tallers, premis, concerts… La 3a edició de la festa ens convida a gaudir de la música, el menjar i el beure d'una manera més conscient, amb propostes de qualitat que contribueixen a cuidar del planeta amb pràctiques sostenibles.
Us convidem a gaudir-ne a un nou emplaçament, al Parc de la Ciutadella. Tota una experiència per als sentits!
Activitats
Showcookings, tallers per a tots els públics, tasts i xerrades per aprendre a canviar els nostres hàbits i descobrir el món de la gastronomia des d'unes pràctiques més sostenibles. T'hi esperem!
Restauració
A l'espai de restauració trobaràs un ampli ventall de plats i begudes elaborats amb productes ecològics i de temporada de diferents establiments gastronòmics de la ciutat. El preu dels platerets és de 5 € i el de les begudes de 2,5 €. També, una mostra de productores locals que ofereixen tastos de formatges, olis o carns ecològiques.
Concerts
L'escenari de "Terra i Gust" inclou propostes musicals variades per a cada moment del dia. Concerts que acompanyaran els vermuts del migdia, més música en viu per passar una bona estona a les tardes i ritmes més potents que ens faran ballar als vespres.
Daria Kolomiec: Divendres 22 a les 22h
Els Senyora: Dissabte 23 a les 13h
Jazz contemporani amb la banda Poblet Jazz: Dissabte 23 de 17.30 a 18.30 h
Liraz: Dissabte 23 a les 22h
Spice Berberechos: Diumenge 24 a les 13h
Hip Horns Brass Collective & Escandaloso Xpósito: Diumenge 24 a les 22h
Més informació a: https://www.alimentaciosostenible.barcelona/ca/terra-i-gust
Address:

Passeig de Picasso, 21

:

Ciutat Vella

Neighborhood:

Sant Pere, Santa Caterina i la Ribera

City:

Barcelona
When

From 22/09/2023 to 24/09/2023
Website
You may also be interested in...