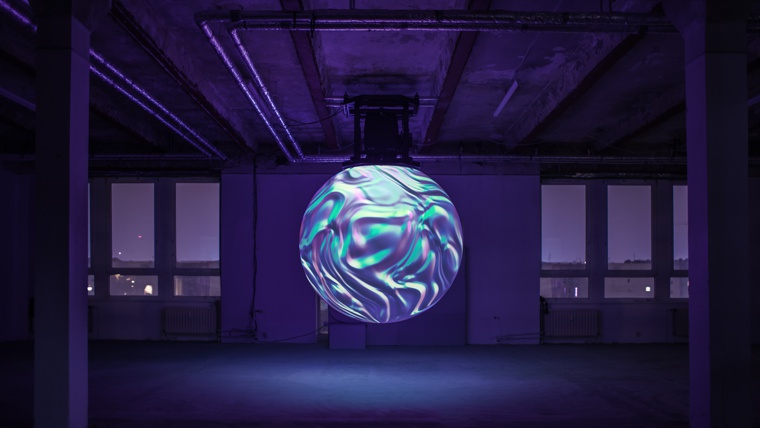 Art and light. Three nights to enjoy installations by the finest light artists on the national and international stage.
The new edition of Llum BCN offers reflections on the energy and climate crises through energy self-sufficient installations such as Another Moon by the South Korean group Kimchi and Chips, creating a "second moon" floating over the Parc Central del Poblenou and traced using solar-powered lasers. Energy self-sufficiency also applies in We Harvest Wind, a kinetic sculpture by Holland's Thijs Biersteker which is activated by wind power.
The air above Barcelona is the scene for projects such as Atmospheric Lighthouse, offering a real-time visualisation of everything which is usually invisible to us in the city's atmosphere and which will turn the shell of the Torre Glòries into a huge banner. Al DHUB, Abel Korinsky and Orhan " aib" Kavrakoglu will be presenting Call Out, a large matrix tracing the trail left by satellites travelling across the Barcelona sky at that moment.
This is the first time that some emerging names will be taking part in Llum BCN, such as the lighting designer Nick Verstand with his reactive sculpture *Anima*, and France's Colectif Coin, with a large-format kinetic installation at the UPF campus.
Check out the full programme here.
Schedule
| | Days | Hours | Preus | Observation |
| --- | --- | --- | --- | --- |
| | Divendres i dissabte | de 18.30 h a 23.30 h | Entrada Gratuïta | La instal.lació "Architects of Air" _ Pl. Coderch es pot veure des de les 16.30h |
| | Diumenge | de 18.30 h a 23.00 h | | |
Diversos carrers de Poblenou
Address:

Avinguda Diagonal, 130 - 130X

:

Sant Martí

Neighborhood:

Provençals del Poblenou

City:

Barcelona
Where

Diversos carrers de Poblenou
When

From 03/02/2023 to 05/02/2023
Website
You may also be interested in...