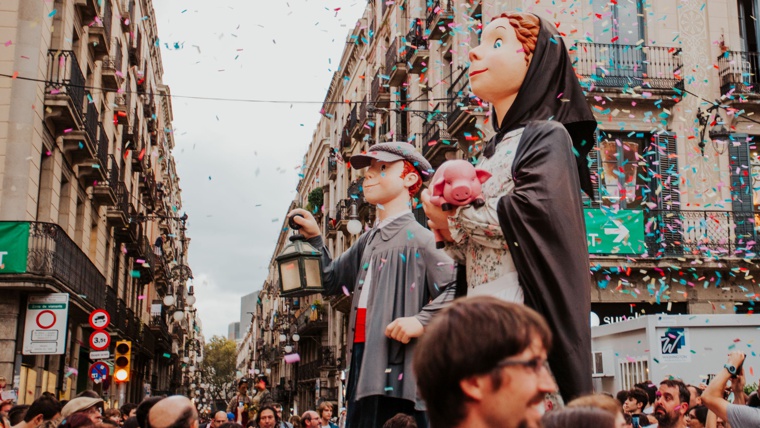 Popular culture. The big procession will be paying tribute to the arts, on the occasion of Picasso Year, which marks the 50th anniversary of Pablo Picasso's death
The La Mercè Procession acts as a showcase for Barcelona's popular culture. Practically all the city's giants, its guiding theme, take part in it. They are accompanied by beasts, "cap-grossos" [big-headed papier-mâché figures], animation teams, music bands and festive elements.
The official name for this year's Procession is La Cavalcada de les Arts and will feature the Barcelona People's Retinue, giants from Kyiv, the recovered themed-costume group Visca Picasso!, and artistic giants such as the ones from La Pedrera, Poble-sec, Charlie Rivel de Cubelles, the Escola Joan Miró, the Ocellaire de l'Eixample, the Músics d'Amposta… And most of Barcelona's giant figures! All led by the members of the Guàrdia Urbana [city police] on horseback.
The will kick off at 6 pm from Carrer de Pelai and finish at around 8 pm at Plaça de Sant Jaume, with the entry all its participants into the City Hall and dancing from the Capgrossos Macers, the Eagle and the City's Giants.
Schedule
| | Days | Hours | Preus | Observation |
| --- | --- | --- | --- | --- |
| | Diumenge | de 18.00 h a 19.00 h | Entrada Gratuïta | Sortida del carrer Pelai a les 18 h i arribada a plaça Sant Jaume a les 19 h. |
Start: Pelai (corner with Gravina). Route: Pl. Catalunya, La Rambla, Ferran, Pl. Sant Jaume and City Hall
La Mercè Procession
Barcelona has a long tradition of all sorts of solemn and festive processions, offering authentic itinerant displays. This is the case with the 'Cavalcada de la Mercè', the procession for the city's local festival which has been the most constant and visually impressive activity down through the years, ever since it began at the start of the last century.
Giant figures, practically the only ever-present element at celebrations in Barcelona, provide the central theme for this enthusiastic and festive procession, organised by the Barcelona Giants Coordination Committee. This event's scenic and interdisciplinary power, its great capacity for drawing crowds, its public recognition, its condition as a central part of the festival which is never lost, give the procession a strength which enables it to harbour all sorts of popular, festive, traditional, artistic and innovative displays.
The procession for 2023 starts in C/ Pelai at 6 pm and concludes an hour later in Pl. Sant Jaume with a performance from some of its most symbolic and spectacular elements. The final giant activity for La Mercè (before the closing ceremony of Toc a plegar on 25 September) ends at 8.30 pm.
Inici: Carrer Pelai cantonada Gravina
Address:

Carrer de Pelai, 12

:

Ciutat Vella

Neighborhood:

el Raval

City:

Barcelona
Where

Inici: Carrer Pelai cantonada Gravina
When

24/09/2023
Website