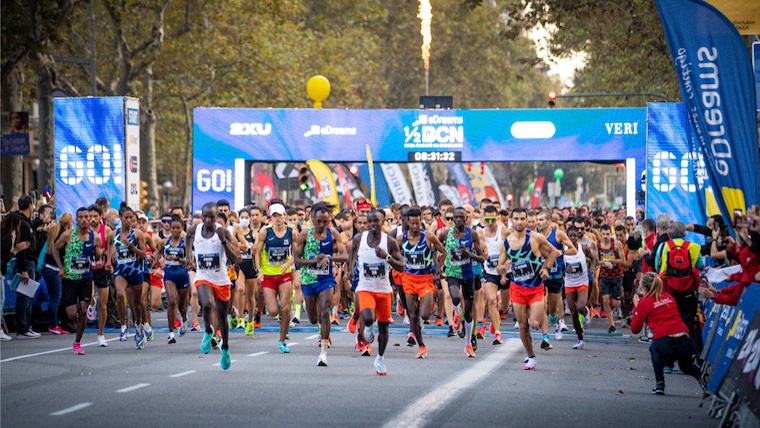 Fun run. A fast, monumental circuit for enjoying your run in the City of Barcelona.
The Half Marathon is much more than a sporting event worthy of Barcelona's global prominence. Every year, athletes come from all over the world to experience a fun and festive race that also has its share of competitiveness.
The Edreams Barcelona Half Marathon is an ideal way of achieving a personal best. A really fast race with a fast, easy circuit.
According to runners who have taken part, this is one of the most complete routes on the international scene, designed with the aim of combining speed with an experience that only the City of Barcelona can offer each of you.
A completely urban circuit taking in the heart and the seashore of an open, active and cosmopolitan Mediterranean city.
You can find all the information and register for the race on the Edreams Barcelona Half Marathon website.
Schedule
Days
Hours
Preus

diumenge

a les 08.30 h

Entrada general de: 32 a 36 €

1r tram: 32 € (fins 10.000 inscrits)

2n tram: 36 € (a partir de 10.001 inscrits)



Others
Organised by:

Informs:
Informació:
Les inscripcions estaran obertes fins el dilluns 13 de febrer del 2023 a les 23:59h o, per motius de seguretat del circuit, fins a assolir la xifra màxima de 22.500 inscrits.
Sortida/Arribada: Pg. Pujades.La sortida tindrà lloc a les 8:30 h.
La distància és de 21,097 kilòmetres.
El temps màxim per realitzar la prova és de 2h45. El cotxe de tancament de la cursa es mantindrà proporcionalment a aquest temps en el km 10 i 15: quedaran eliminats els atletes que no compleixin el temps de pas màxim exigit.
Recollida de dorsal:
On: Fira del corredor. A la Fira de Barcelona de Montjuïc, pavelló nº7 (al costat de les Columnes Puig i Cadafalch)
Data: 17 i 18 de febrer 2023
Horari: Divendres de 14h a 21h i dissabte de 10h a 20h
Recorregut
Sortida: pg. Pujades (entre Roger de Flor i Wellington).
Itinerari: pg. Pujades – pg. Picasso – av. Marquès de l'Argentera – Pla de Palau – pg. Isabel II – pg. de Colom – pl. Portal de la Pau – pg. Josep Carner – pl. Drassanes – av. Paral·lel – Entença – Gran Via CC, entre Entença i rambla Catalunya – Gran Via CC, entre Rbla. Catalunya i pg. de Gràcia – Gran Via CC, entre pg. de Gràcia i Bailèn – Bailèn – ronda Sant Pere – pg. Sant Joan amb pg. Lluís Companys, costat muntanya de la rotonda – pg. Lluís Companys – Buenaventura Muñoz – Pallars – Llacuna – Perú – Josep Pla – Gran Via de les Corts Catalanes – Rambla Prim – av. Diagonal – gir de 180º a Espronceda – av. Diagonal - Pl. Llevant – pg. de Taulat – Josep Pla – pg. Garcia Fària – pg. Garcia Fària – Jonquera – av. Litoral – Arquitecte Sert – Salvador Espriu – pl. Voluntaris – Marina – Pujades – pg. Pujades.
Arribada: pg. Pujades (entre Roger de Flor i Wellington).
Sortida i arribada al Passeig Pujades
Address:

Passeig de Pujades, 7

:

Ciutat Vella

Neighborhood:

Sant Pere, Santa Caterina i la Ribera

City:

Barcelona
Where

Sortida i arribada al Passeig Pujades
When

19/02/2023
Website
Web:

Web inscripcions:
You may also be interested in...